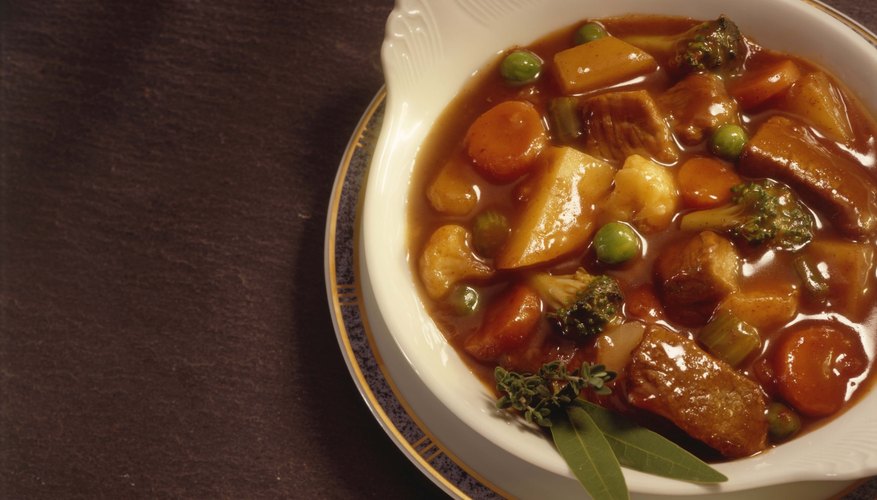 At its simplest, beef stew consists of chunks of meat braised in some sort of liquid until the beef is falling-apart tender. It's high on the list of comfort food classics, and is perfect for a winter main dish. It's also a good vehicle for all sorts of vegetables, and is usually mildly seasoned enough to placate even the pickiest of eaters. Your kids should eat it up, so to speak.
Basic Beef Stew
Classic old-fashioned beef stew starts by browning the meat in a stock pot or Dutch oven, then setting aside. Add chopped onions to the pot and saute until soft. Add fresh tomatoes, a can of crushed tomatoes or tomato sauce, some water, stock or other flavorful liquid, and any other seasonings you wish, such as fresh herbs. Tomatoes aren't high in sodium, but it is healthier to use fresh tomatoes than canned or tomato sauce, because you'll preserve the vitamin content with fresh tomatoes. Or, you can omit tomatoes, as not all recipes use them. Return the meat to the pot. Bring to a boil and simmer for a half hour or so. Add cut potatoes and carrots, peas or other root vegetables, bring to a simmer, and cook until everything is tender.
Theme and Variations
Now that you have a basic recipe, it's time to shake things up a bit. You can vary the vegetables -- try butternut squash, or sweet potatoes in place of (or with) the potatoes and carrots. You can add frozen corn. Rinse the frozen corn well to remove the sodium that frozen foods contain. You can use turnips or parsnips if you cut them small, so your toddler or preschooler won't notice them. You can even add rosemary or a dash of cinnamon, if you like.
Slow Cooker Stew
Beef stew works splendidly as a slow cooker. If you like, you can even skip browning the meat in a separate skillet and simply layer the vegetables, meat and onions in the slow cooker. Adding a little flour in the slow cooker works best when you add meat. Add some freshly ground black pepper, but no salt. You can add a pinch of salt at the table. Add a little extra liquid than you would with a stove top recipe, and cook for 8 to 10 hours on low and 4 to 8 hours on high, depending on your slow cooker. Newer slow cookers need less time than models of only a few years ago. Be sure not to add too much water, though, as the slow-cooker uses moist heat, and loses less water than stove-top cooking.
Side Dishes and Accompaniments
You can serve your beef stew over noodles -- always popular with children -- or over mashed potatoes, another kid favorite. Serving over whole grain spaghetti, macaroni, penne or rigatoni (or using both whole- and enriched-grain pasta) will go a long way toward helping your child develop life-long, healthy-eating habits. (You know how difficult that can sometimes be). You can also simply offer whole-grain bread or rolls with a bowl of stew. Don't get too fancy with the accompaniments, as one of the virtues of beef stew is that it's a one-pot meal.