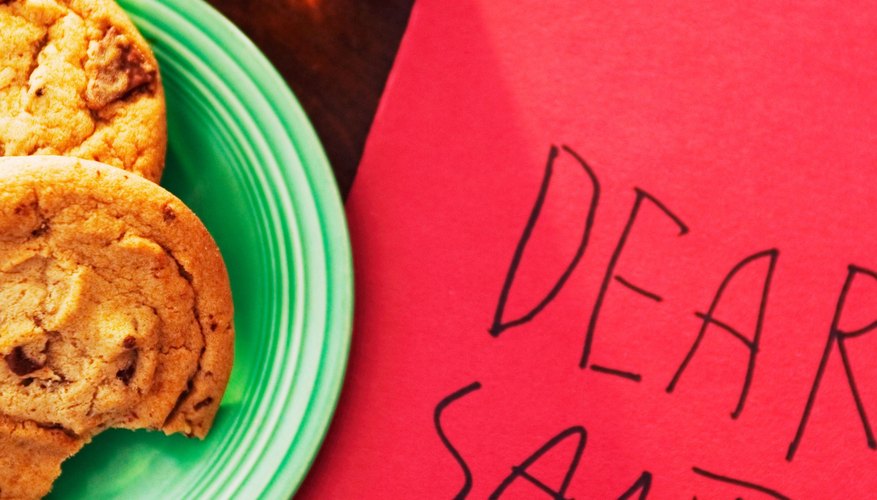 During the Christmas season, your little one probably can't get enough of Santa Claus. Get in the spirit of the holidays and plan some simple Santa activities to really bring the magic home. The sparkle in the eyes of your child will likely be the best gift you receive.
Dear Santa
Sending a wish list to Santa is a treasured tradition in many households. Encourage your child to write a letter to Santa asking for gifts -- and this way, you'll know exactly what your child wants to unwrap on Christmas morning. Younger children can draw pictures of what they want or dictate the letter for you to write. Make the card special by using a festive red envelope and singing Christmas carols together as you drive or walk to the mailbox. You can also give your child holiday stickers and stamps to use to decorate the letter.
Christmas Photos
To a child, there's nothing quite like spotting the bearded man himself. Check with your local mall to see when Santa is available for visits with kids. Encourage your child to deck himself out with jingle bells, a Santa hat or red and green clothing. While you're there, snap a few photos of little Johnny on Santa's lap. Later at home, your child can decorate a frame to go around the picture with holiday stickers or festive designs.
The Season of Giving
Just as Santa brings joy and cheer to children everywhere, your child can put a smile on someone's face with a thoughtful gesture. Make Santa-themed cards for the local retirement home, or stuff Santa goody bags with toys for needy kids. Draw or paint pictures of Santa to send to the troops serving in the military or to brighten up the walls of the local children's hospital. Your child might even want to put on his Santa hat and serve meals at a homeless shelter.
Cookies for Santa
On Christmas Eve, help your child make a snack for Santa Claus. Whip up a batch of cookies, or get creative and bake him some homemade pizza or quiche. Younger kids can participate by mixing and pouring, while older ones can help measure. Let your child know that it's perfectly fine to sample the foods before setting out a plate for Santa. And don't forget the reindeer: leave a bowl of water or milk on the floor for them, too.