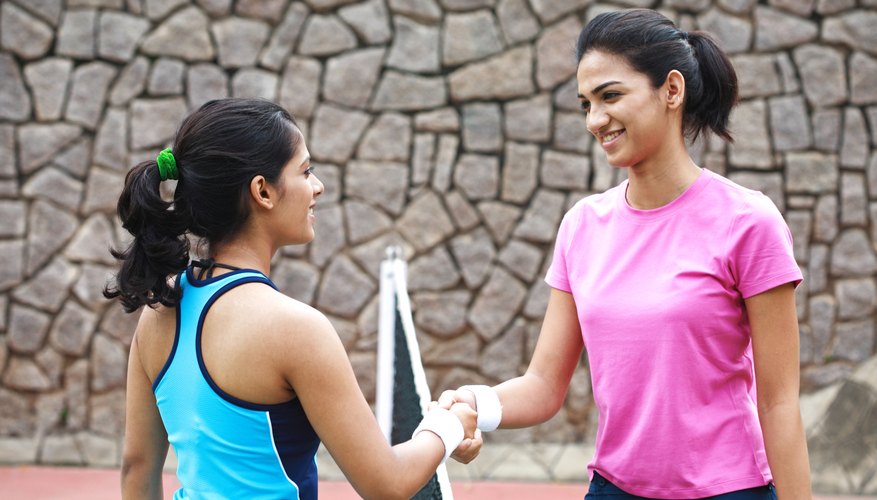 Unlike your toddler, who is majorly dependent on you, your teen is learning to become much more autonomous. During the transition from childhood to early adulthood, your teen is trying to figure out where her life is headed and how she will get there. Setting goals can help her make changes and work towards objectives such as getting into the college of her choice. If your teen is struggling to set goals, try a few icebreakers that will help her relax and open up her thinking.
Get Specific
KidsHealth suggests that teens set specific goals in order to make realistic objectives that will actually bring about change. Instead of letting it go when your teen says that he is "going to get into college," try an icebreaker game to help him -- and even his best buds -- set more specific goals. Sit your teen down, giving him a piece of paper and a pen. Have him list specific aspects of his goal. For example, if he wants to get into college, he might list maintaining at least a 3.8 GPA, participating in two extra-curricular activities and finishing a community service project before the end of his junior year. This will break the ice when it comes to his more narrow type of thinking and open up his vision of what his goals really are.
Time
Reaching goals takes time. While your teen may want to see immediate results, she has to learn that she can't meet every goal overnight. Help her, or a group of her peers, to better understand that some goals take time to achieve by trying an icebreaker activity. During her next school club meeting or at an at-home hang-out session, have the kids write down one goal each on a blank postcard. Instruct the teens to write down a goal that they can start working on immediately. For example, your teen could write a goal such as "exercising at least three times each week," but should avoid something that is far off in the future such as, "becoming a pediatrician." Hold on to the cards, and mail them out to the kids in six months. This will give the teens the chance to see how they are doing on working towards their goals after some time has gone by.
Group Goals
Some goals aren't necessarily individual objectives. Your teen may need to set group-oriented goals, such as winning a basketball game with his team. Facilitate team work and help the whole gang to better set group goals with an icebreaker. Position the kids in a circle and have each teen say what he thinks the specific group goals are. Write these down, and at the end of the session discuss what the team can do to make these goals become a reality. If you want to teach the group how to work together to reach a goal in a truly interactive way, have the teens stand in a circle holding hands. Tie each teen's hand to the person standing next to him at the wrists with a loose ribbon or a bandanna. Have the kids do one task, such as wrapping a present or making a sandwich, together as one unit. This will help them to understand how each person is part of the group and force them to use their communication skills to accomplish a goal.
Common Goals
Help your teen to see that nobody's perfect and that everyone has room to improve themselves. While it's unlikely that your teen needs to make a major overhaul, you can try an icebreaker with her and her friends or your family that illustrates how everyone has personal goals. Have your teen, and her friends or your family members, write down one specific goal on a piece of paper. Put the papers in a hat or a bag, and pull them out one at a time. List the goals, comparing and contrasting the similarities and differences. For example, if three of the teens say they want to exercise more often, discuss how physical fitness is a key part of a healthy lifestyle.