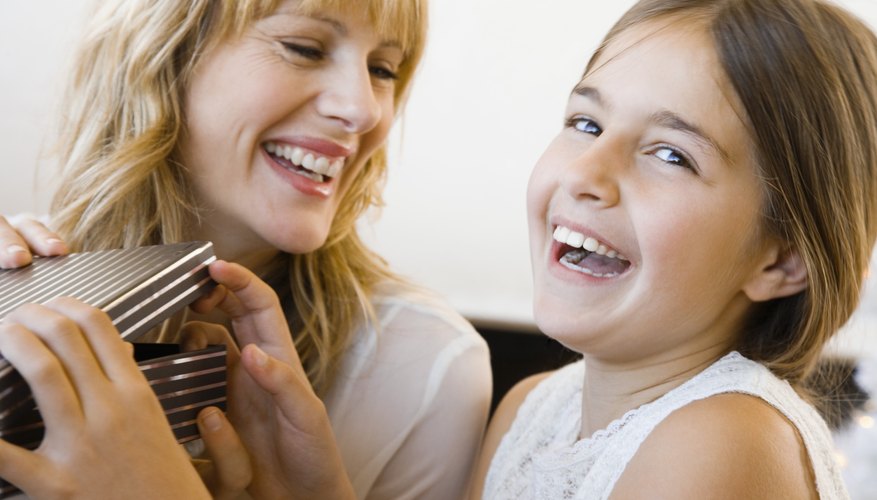 The day a child becomes yours to keep is a day you should celebrate with love and gratitude. What better way to make adoption day special than by giving your little one a gift from your heart. Choose a token or item that exemplifies the importance of this monumental and unforgettable point in a family's timeline.
Commemorative Gifts
A plaque with the date of the adoption and a photograph of the family will become wall art that will remind your child of this special day for years to come. A medallion with the child's initials and the date of the adoption finalization would be an item that he could wear on an attractive chain throughout his adulthood. A charm bracelet with the same type of small dated charm attached would also be an option for a female. A scrapbook filled with pictures, statements, quotes and journal entries of all the events leading up to the big day would remind the child of his journey to his new home and how loved he is.
Books
A custom-made story book with all of the dates, times, names and details of the adoption journey would provide a lasting commemoration of the child's entrance into his new life. It would be an item that he could keep on his bookshelves forever and provide personal story-time reading at bedtime for many nights to come. Another option would be to purchase adoption-themed books such as "Over the Moon: An Adoption Tale" by Karen Katz, written with four-to-eight year old children in mind. Older children might enjoy accounts of teens in similar circumstances such as "The Returnable Girl" by Pamela Lowell. .
Interactive Activities
Items that encourage interaction among family members would be especially welcomed. A playground set or trampoline for the backyard, a game system with a variety of games for the family room, or, if you have a smaller budget, simple puzzles, board games and playing cards would help provide the opportunity and environment for all family members to bond.
Fun Gifts
Adopted children will enjoy just ordinary gifts that make them feel like part of the family. A coveted pair of name-brand sneakers, backpacks for their new schools, or gift cards to their favorite stores will all make them feel that they are now welcome and vital additions to their new home. New additions to their rooms such as bedding, furniture, wall art or rugs will help make them comfortable and relaxed in their surroundings.