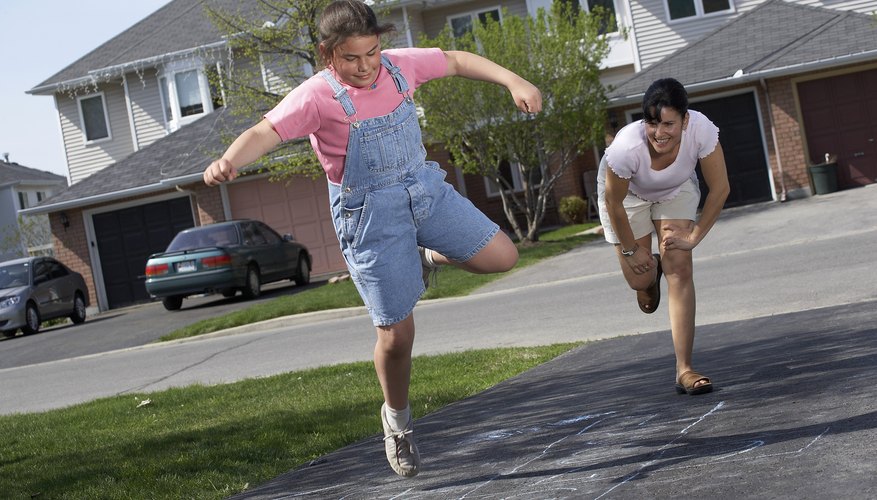 The relationship a daughter has with her mother can have more of a dramatic impact on her life than a bond with her father. According to Psychology Today, 60 percent of women say their mother was more influential than their father. Select an interest you share with your own daughter and use bonding games as tools to influence her in a positive way.
Makeover Games
Mothers and daughters who follow the latest fashion and makeup trends will enjoy creating new styles for each other. Mothers of little girls can paint each others' nails and add colored clip-in hair extensions to each others' hair. They can complete the looks with dress up items, such as boas and gowns, and put on some music for a fashion show. Preteen and teenage daughters can even go in their mother's closet and select several different clothing items to create a whole new look for their mothers and vice versa. They can try out new make up on each other, style each others' hair and put on a fashion show for the whole family.
Baking Games
Mothers and daughters who love to prepare baked goodies can bond with baking games. A cupcake decorating contest will be enjoyable for mothers and young daughters. Mothers will first bake a batch of cupcakes and set out an assortment of cupcake decorating ingredients to decorate a cupcake for each other. Mothers and daughters can discuss what they like about the cupcake designs. Older girls and teenagers will likely have more kitchen experience and can complete advanced baking competitions with their mothers. They can decide on the same baked good to make separately, perhaps a secret family pie recipe, and enlist family members and friends to serve as food testers to decide on who made the best version of the family recipe.
Outdoor Games
Mothers and daughters who are athletic or just enjoy nature can head outdoors to play several kinds of games. Mothers can take the opportunity to play traditional children's games, such as hopscotch and marbles and jacks, with preschool and school-age daughters and reminisce about their own childhood. They can also have a pretend tea party outdoors with stuffed animals. Preteens and teenagers will enjoy more competitive games, such as volleyball or badminton, with their mothers. Mothers can set up a net in the back yard and serve the ball or birdie back and forth to their preteen or teenage daughters. Mothers can share stories about sports they played in school. They can also consider planning scavenger hunts for each other by hiding prizes around the yard for each other to find.
Musical Games
Musical games will allow mothers and daughters to rock out together. Daughters in preschool or elementary school and their mothers can use toy instruments to make music. The mothers can play an instrument and let the daughters follow with the same beat. Mothers and daughters can also prepare a special song together and take turns writing the lyrics. Daughters can set up stuffed animals and have a mother and daughter musical performance for them. Preteens or teenagers and their mothers can perform karaoke together by singing over prerecorded tracks. Another option is for them to choose songs for each other to perform. Both will have a good laugh watching the other's performance. In addition, they can add dance steps to make it even more enjoyable for the both of them.
Interview Games
Mothers and daughters can act as reporters and interview each other. Daughters can create a series of questions to ask their mothers about their lives growing up. A daughter can find out what toys her mother played with, who her best friends were, what her favorite subjects in school were or what foods she liked to eat at meals. Mothers can ask similar questions to their daughters. Daughters and mothers may find they share many things in common, despite their age difference. They can choose another family member to record the interviews to save as a keepsake for daughters to share with their own daughters one day and to reflect on and discuss what they learned about each others' lives.