When playing with the same old toys inside gets boring for kids -- or their supervising parents -- spice up your play dates with a little creativity and planning ahead. You don't have to break the bank to organize any of these out-of-the-ordinary activities at the local park or in your own kitchen, and they are guaranteed to entertain kids of all ages and adults. Sensory exploration and physical development comprise just a couple of benefits of these activities for kids.
Get Crafty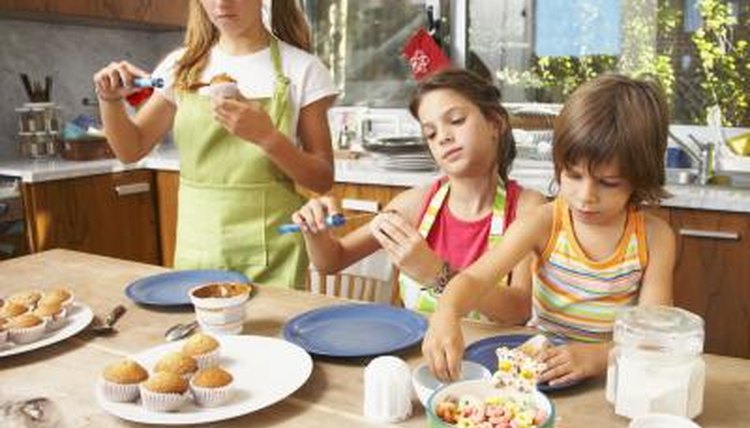 John Lund/Annabelle Breakey/Blend Images/Getty Images
Crafting and baking can absorb children of all ages for an hour or more. Children age three and up can help mix muffin batter, and babies can explore different-shaped plastic cookie cutters before older kids press them into rolled-out sugar-cookie dough. All ages will enjoy tasting the results of their labor. Recipes on the Internet abound for homemade, edible paint and play dough, fun enough for even eight- or nine-year-olds and safe enough for infants and great for their sensory development. If you have all the materials for your craft or recipe set up before everyone arrives, the kids can begin right away and the adults can chat while supervising.
Park Hopping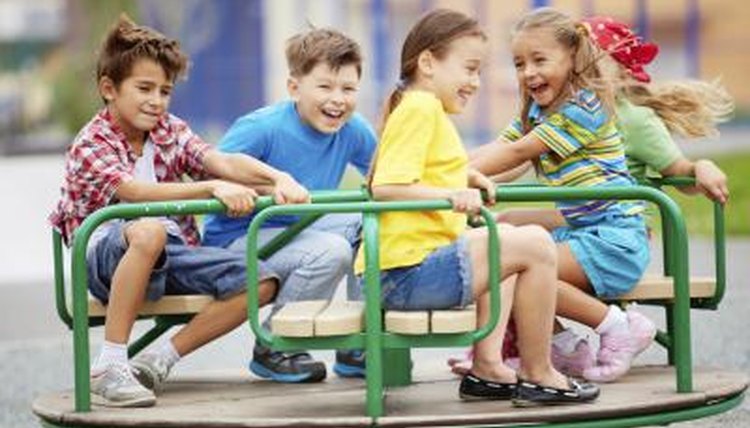 shironosov/iStock/Getty Images
If you are tired of meeting your friends and their kids at the same old playground, try a new park or playground each playdate. Playgrounds with different platform heights and slide sizes accommodate children of varying ages. On a sweltering day, dress your kids in bathing suits, arm yourselves with sunscreen, hats and towels and head to a splash pad. Locate a park in your area with trails for an afternoon hike with your parent-friends, while babies nap in infant carriers or joggers and older children trot alongside.
Water Fun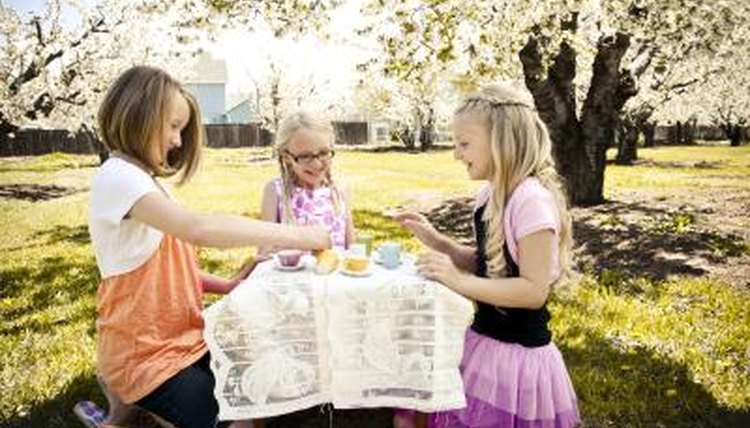 becky rockwood/iStock/Getty Images
Water's not just for fun; water play teaches kids physical coordination as well as math and science skills. Though water play they learn about volume, displacement and buoyancy. In your backyard, fill a large plastic container with water and throw in some waterproof toys. (Adult supervision at all times!) Make your own sprinkler by poking holes in a plastic sandwich bag, fastening it around a hose with an elastic and tossing the hose over a tree branch. On a rainy or snowy day, set up kids inside with a tea party with "real" tea -- water. Place a towel or aluminum baking tray under the play tea set for toddlers who spill often, and you and your adult friends can sit back and enjoy your own cup of tea.
Find a Theme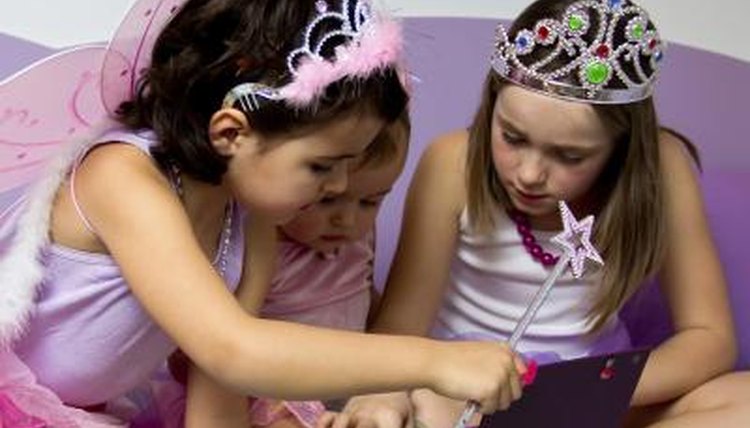 MarcoGovel/iStock/Getty Images
Young children often fall in love with a certain movie, TV show or character. Why not use the excitement they have for those characters and turn it into a theme play date. If your little one is in love with the latest Disney Princess movie, invite one of her friends over so they can play make-believe together. If your little guy is head over heels about the latest superhero, find some fun ways to incorporate that into a play date with another friend who is like minded. You can find themed snacks, crafts and play dress up with some old fabric or blankets. If you want to go the extra mile, you can head over to a local fabric store and find some inexpensive fabrics that go with your theme. However, you don't have to pay a lot and your child will likely have a lot of creative ideas if you ask him to join in the planning.