Dramatic play encourages toddlers to create exciting fantasy worlds bound only by their imagination. Few children can resist dressing up in costumes, role-playing or making a puppet show. In addition to providing hours of fun, dramatic play activities tap creativity, expand vocabulary, strengthen communication skills, enhance cognitive development, improve hand-eye coordination and build motor skills. Adults can offer ideas, provide props and ensure a safe environment, but toddlers should be allowed to express themselves freely without memorized lines or detailed instructions.
Sock Puppets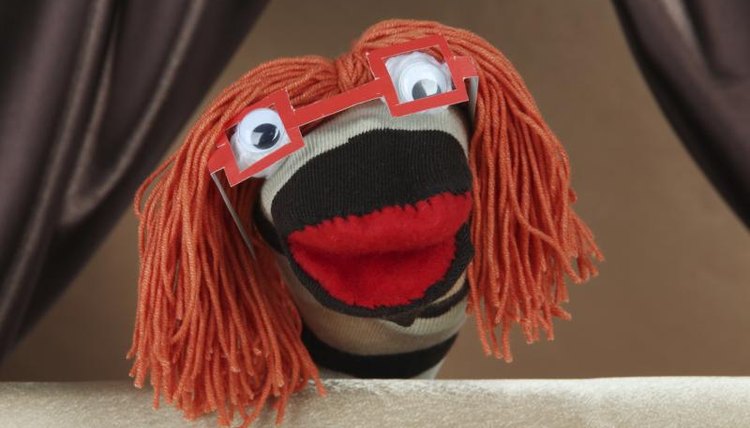 belchonock/iStock/Getty Images
Instead of discarding mismatched socks from the dryer, show toddlers how to turn socks into entertaining puppets. For example, an ordinary green tube sock can be transformed into a snake or a dragon by drawing eyes on the sock and attaching a felt tongue or wings with fabric glue. Instruct toddlers to insert their hand all the way into the sock and move their hand to form the puppet's mouth between their fingers and thumb. Toddlers can make up stories with their puppets, or they can play with caterpillar sock puppets while listening to you read a book like "The Hungry Caterpillar" by Eric Carle.
Indoor Camping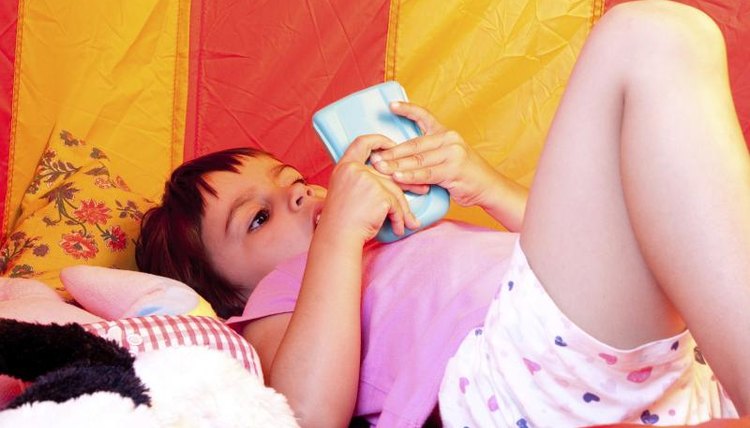 ASIFE/iStock/Getty Images
Entertaining toddlers on a rainy day is easy when you organize an indoor camping trip. Drape bed sheets over two chairs for a tent, or set up an actual tent in the family room. Let toddlers use pots and pans for camping equipment. Provide backpacks for a hike around the house or yard. Eat a picnic lunch on a blanket. Sleeping bags can be placed inside the tent for naptime. Use logs from the fireplace and a flashlight under a red scarf to simulate a campfire.
Rock Concert
Petro Feketa/iStock/Getty Images
Toddlers love drums, bongos and other toy instruments. If you have earplugs or a high tolerance for noise, turn your toddlers into rock stars. Suggest they form a band, and choose a name for their musical group. Explain rhythm patterns, and challenge toddlers to copy patterns as you clap your hands or play a drum. Select children's music with a strong beat, and encourage toddlers to play along. Clear the room for a dance floor, instructing your toddlers to come up with dance moves because rocks stars also dance on stage. Ask toddlers to give their new dances a silly name, like the "Hopping Chicken."
Dress Up
Yuryimaging/iStock/Getty Images
Costumes and wigs from Halloween, garage sales or thrift stores ignite a toddler's imagination. Wearing costumes provides toddlers an opportunity to explore roles and learn about the world. Avoid stereotyping, such as only giving a girl a nursing uniform or a boy a fire fighter hat. Toddlers should be encouraged to try on many different types of roles. Other fun costumes include super heroes, animals and cartoon characters.