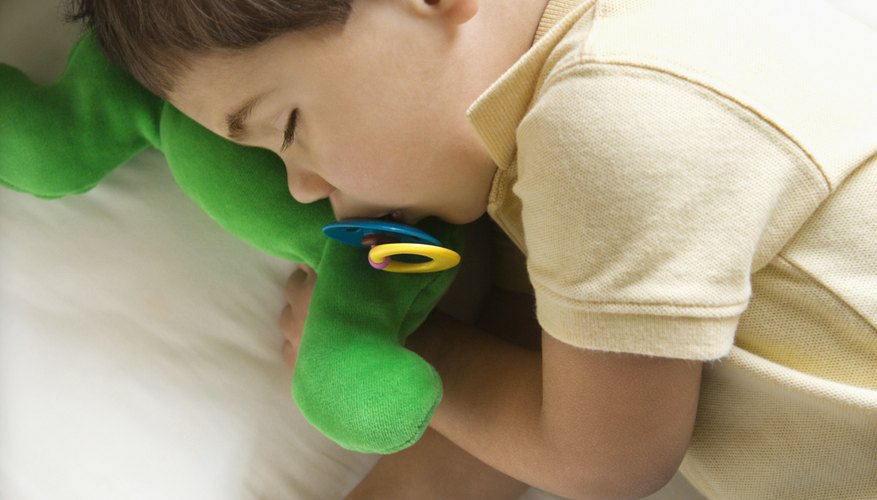 Your 2-year-old son might not have a strong opinion on how you decorate his bedroom, but he likely has preferences that you can exploit to create an interesting place to play and a restful place to sleep. Ask your son what kind of bedroom he wants and use that as your starting point for painting, choosing furniture and bedding, as well as adding decorations to the space. Try not to fall in love with your final design because chances are your little guy will change his mind and want something new.
Pirates
Most 2-year-old boys would jump at the opportunity to have a swashbuckling adventure -- pirates are a fairly simple theme to create in his bedroom. Take your little boy to a home improvement store and show him the paint samples. Let him guide your final wall color choice. Keep in mind that bold colors, such as red, can stimulate your toddler while pale colors, such as light blue, can have a more relaxing effect, according to Megan Connelly, author of "The Smart Approach to Kids' Rooms." Pale blue can look like the ocean, and might just get your toddler to sleep faster at night. Paint his bed black to mimic a pirate ship. Hang toddler-friendly images of pirates and pirate ships on the walls. Hunt through thrift stores and clearance racks to find pirate-themed decorations, such as piggy banks and figurines.
Outer Space
The thrill of exploring the stars and planets interests many toddlers, and if your little guy dreams of rocketing off to outer space, turn his room into a space-themed haven. Paint the walls a calming gray and stick glow-in-the-dark stars on the ceiling and the walls. Better yet, give your toddler some of the stickers and let him make constellations on the lower parts of his walls. Frame and hang pictures of shooting stars, meteorites and planets around his room. Use pictures from magazines or thrift store books as a cheap way to create this art. Add a toy telescope near his window so he can watch the night sky.
Transportation
Airplanes, trains, cars and trucks are highly appealing to little boys, and they're also an easy way to create a toddler-friendly theme in your son's bedroom. Paint the top of the walls light tan or white. Use black chalkboard paint to color the bottom of the walls so your little guy can draw roads to drive his cars and trucks on, as well as railroads for his trains. If you need to buy a bed for his room, consider a car-shaped bed, which come in a variety of colors, shapes and sizes. Hang model airplanes from the ceiling. You might also paint the ceiling blue with white puffy clouds.
Additional Ideas
If your toddler is captivated by fire trucks, hang pictures of vintage engines in his room. If he loves superheroes, print pictures of cartoon superheroes from your computer, frame them and hang them. Use stuffed animals to create a zoo-inspired bedroom or paint a mural on one of your son's bedroom walls. Buy fabric in your chosen theme and make decorative pillows for his bed or curtains for his windows.