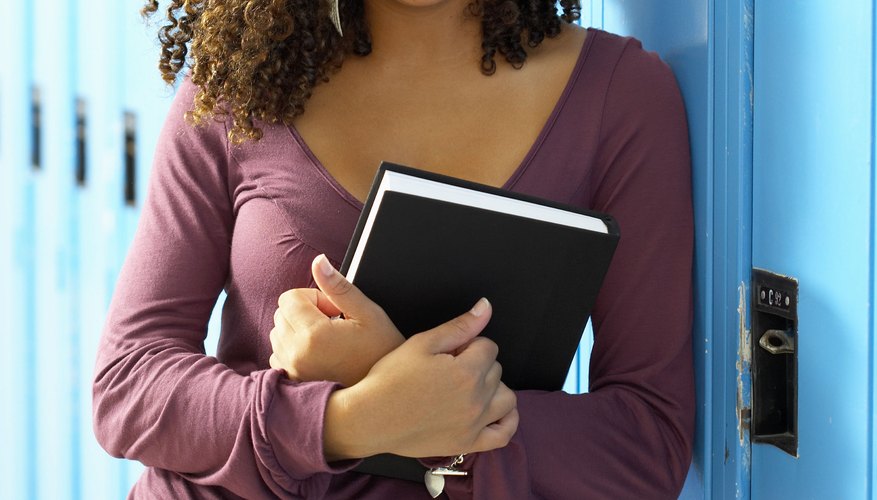 According to the American Academy of Pediatrics, many of the tools you used with your children when they were younger are still effective -- they just need to be modified a bit. Providing your teen with effective discipline, consequences and rewards helps to ensure her safety and health and will be the backbone of her success.
Set Clear Expectations
Setting clear expectations establishes boundaries for your teen. Keep expectations reasonable such as maintaining good grades and behavior, and complying with house rules, according to the website Kids Health. If the expectations are unrealistic, your teen will have little motivation to care one way or another. Creating rules just for the sake of having control and compliance will cause conflict. Rewarding your teen for exemplary behavior should encourage her to continue displaying the desired behavior. For example, if she has kept to her 10 p.m. weekend curfew, bump it up to 10:30 p.m. after a few months and stress how proud you are of her. Likewise, if she is constantly late, give them a logical consequence -- prohibit her from going out the next night or make her curfew one hour earlier.
Consequences vs. Punishment
James Lehman, behavioral therapist and author of "Transform Your Child," warns that a consequence is not the same as a punishment. A consequence will teach something while a punishment is a payback of sorts. A consequence should coincide with the undesired behavior or choice that your teen displays. A consequence for a poor grade is a loss of privileges such as video games, use of the car or hanging out with friends. These privileges could have contributed to his poor grade, which can teach him the cause and effect relationship. A punishment would be requiring your teen to complete additional chores in hopes that he would be motivated to maintain their grades to avoid extra work.
Get Them Involved
Teenagers often like to think of themselves as adults, and they are well on their way to being just that. Having your teen take an active role in establishing her rules and consequences is often an effective way to work out clear guidelines for chores, curfew and behavior. Also, you can discuss rewards for following her rules, which will help reinforce the positive behavior. Extend her curfew, let her have a pizza party or movie night to show your teen you support her.
Modeling Behavior
Children imitate their parents -- parents notice it when they realize the need to watch their language so their child doesn't say a cuss word. This goes on throughout life with many other people acting as influences. Model behaviors you would like your teen to adhere to such as honesty, having integrity and compassion, being reliable, and having ethics and morals. Setting a good example for your teen will help him develop those characteristics and develop into a well-rounded adult.