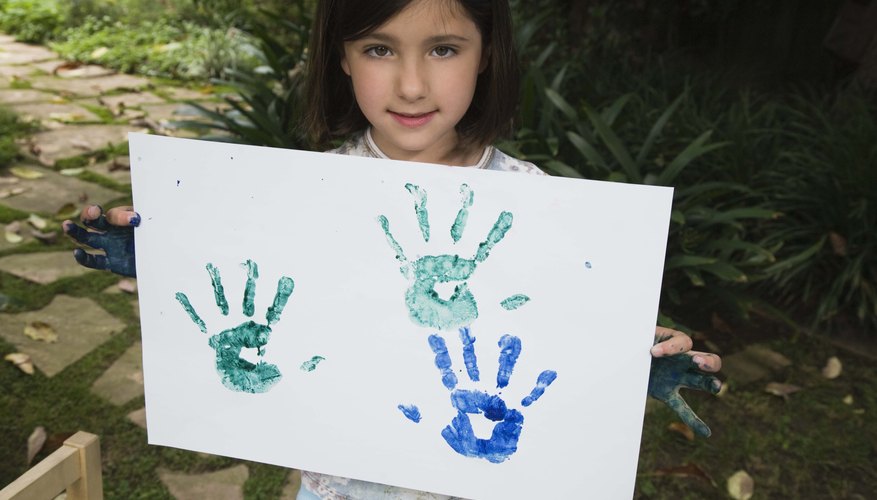 Get your child creatively involved in activities that feature his little handprints. Besides the fun that you both will have, handprint projects make cherished gifts for a grandparent or other loved one. Or, you may decide that you want to keep the project for yourself as a reminder of how small your child once was.
Reindeer Christmas Ornaments
For a fun and useable Christmas craft, trace your child's handprint, fingers spread wide, onto brown felt or card stock. Make one or several. Cut out the handprint, then, with the fingers pointing down, punch a small hole in the top center and tie a ribbon for hanging. Your child can decorate the reindeer, using hot glue or craft glue. Googly eyes and little felt pieces for the nose can go on the thumb area, with cardboard antlers glued on the top of the head.
Handprint Turkey
For a festive Thanksgiving turkey activity, paint your child's palm and thumb completely with brown nontoxic paint, then paint each finger separately red, green, orange and yellow. Have her press down to make a handprint on sturdy card stock. The fingers are the turkey feathers, and the thumb is the head. Once dry, your child can use markers to draw a waddle, beak, eye and feet in the appropriate places. Now she can either cut the turkey out or decorate the background.
Poem with a Handprint
Make an easy and thoughtful card by painting your child's hand, then pressing it down on the center of a card that has already been folded in half. A sweet poem can be added, such as "Keep this print of my hand so you can recall just what size my fingers were when I was very small." You can also help your child create her own poem, tailored to the card recipient.
Salt Dough Handprints
Salt dough can be made with a simple recipe of 1 cup salt, 1 cup flour and 1/2 cup of water. Kids will love to help you measure and mix the ingredients, form the dough into a ball then roll it out to make a circle. Have your child press his hand into the center of the circle of dough to leave a handprint. Set the dough on a parchment paper lined baking sheet and cook it in the over at 200 degrees Fahrenheit for about 1 hour, or until it is very hard. Once cooled off, it can be painted for extra flair. If you wish to make a hanging piece of art, punch a hole in the top center before baking the piece.