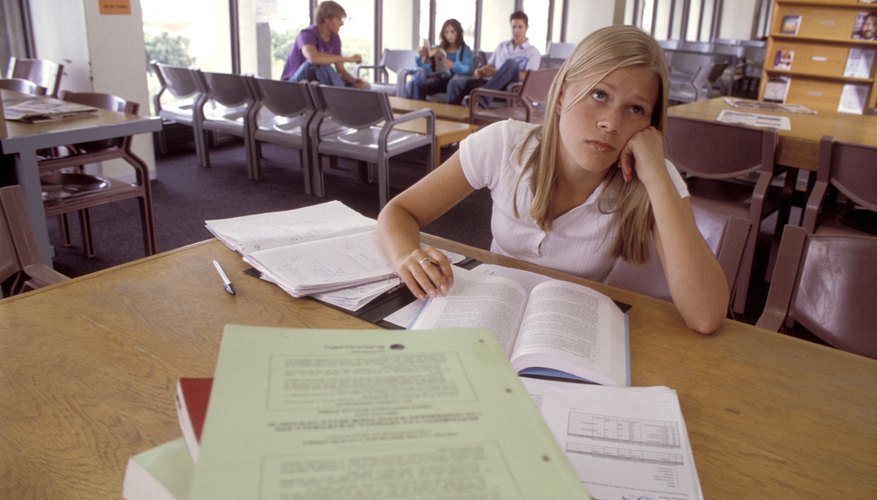 As a child moves through his teens and into adulthood, career planning becomes increasingly important. While he does not have to decide on concrete career plans as a younger teen, it's wise to start moving in a certain direction, so that he can choose the right classes during his final years of high school. Education.com points out that parents can have an influence on their teen's career exploration by encouraging him when he shows interest in a particular subject.
Implementing a Plan
Developing a career plan could open up opportunities for your teen, as it makes it possible for her to begin following her dream. She can start by considering her interests, researching her possible career options and analyzing each one. She can narrow down her choices based on how important each aspect of the career is to her. If she feels as though enjoyment is more important than money, she should focus on careers that she will enjoy, regardless of the pay. Next, she can make a tentative choice and move towards her end goal. She should reflect on these choices periodically and make the necessary adjustments if she wants to change her course, according to the Idaho Career Information System.
Trying It Out
It is impossible for your teen to know how much he will enjoy a career until he has some relevant experience. While it might be difficult to find a job in his desired field while in high school, he can probably find a part time job that requires some of the same skills. For example, if he would be working as part of a team in his career, he can take a job at a fast food restaurant, suggests Education.com. If he enjoys working with others in this environment, there is a good chance that he will enjoy it in the future.
Skill Development
Gaining experience in a particular field is important in a job search and it is never too soon to begin. Job shadowing can help your child learn about the day-to-day requirements of a particular job, while taking an internship provides an even more hands-on environment by submersing the teen in the workplace. Some organizations will even allow teens to volunteer, according to the University of Washington, which looks great on a resume and can further the teen's occupational skills.
Speaking with Professionals
There is no better way to learn about a career than by speaking with those who are already involved in it. Professionals in your teen's desired field can provide her with much needed advice, reports TeensHealth, which can provide career guidance that she will not find elsewhere. Most professionals will take the time to speak with a young student and this information can help form a career path.