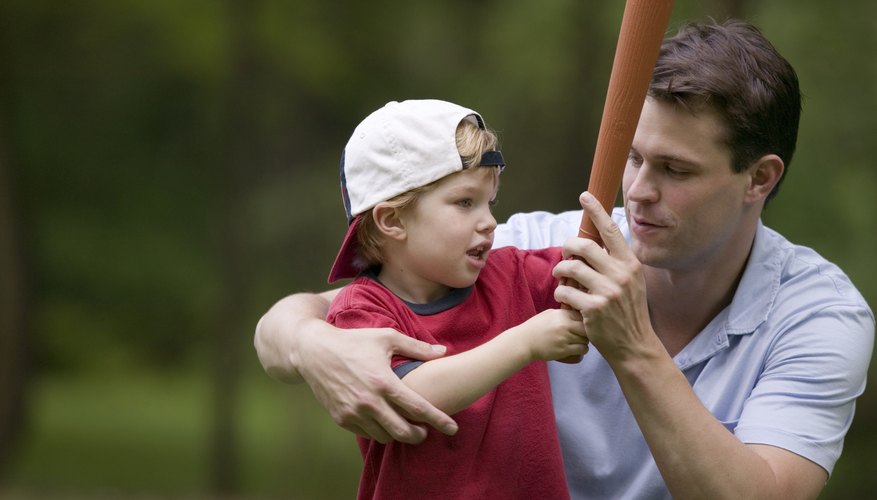 If your 3-year-old loves playing catch, throwing balls around the house and swinging sticks at random objects, it might be time to sign him up for baseball camp. The majority of baseball camps and programs are for older kids, generally older than 4 or 5 years, and run during summer. However, several camps in Florida are designed specifically for 3-year-olds and often run year round. These aren't your typical baseball camps with the coach yelling and jumping up and down hoping your kid hits a home run. The programs for 3-year-olds introduce youngsters to the sport while they have fun and develop confidence. They also learn social skills, teamwork, patience and discipline.
The Futbol Club
Don't let the name mislead you. While The Futbol Club (thefutbolclub.com) in Pompano Beach might seem to focus on soccer, they also have the TFC Baseball Stars program for toddlers and preschoolers. Aces, for ages 2 1/2 to 3 1/2, and Rookies, for ages 3 1/2 to 4, introduce your little slugger to T-ball with the basics of throwing the ball in the right direction, holding a bat so it doesn't swing like a golf club, running bases and having fun. Siblings ages 4 to 6 can join the Slammers, Strikers or Sluggers and learn right along with your toddler, creating an added opportunity for sibling bonding.
Seminole Dizzy Dean Jr. Warhawks
If your 3-year-old has ever dreamed of being a Bee, Cub or Pirate, the Jr. Warhawks, a franchise of Dizzy Dean (leaguelineup.com/divisionlist.asp?cmenuid=1&url=sjwaa), might be the perfect introduction. It offers T-ball for 3- and 4-year-olds, regardless of where you live. That means your child and his friends can play together even if they live in different areas of Florida, including Dunedin, Seminole, Palm Harbor, Clearwater, Largo, Pinellas Park and St. Petersburg.
Lil Sluggers
Lil Sluggers (lilsluggersbaseball.com) has baseball camps, classes and leagues in Broward County, Orlando, Palm Beach County, Volusia County and West Florida. Your 3-year-old will be in a small group of six with a ratio of 6 children to 1 adult. Because most small children do better in small groups, all Lil Sluggers classes are limited to six kids, allowing your child to get the individual attention he deserves. They learn basic skills in a positive and age-appropriate environment for 2- and 3-year-olds.
Wellswood Youth Baseball
Beginning at 3 years old, your child can join the Wranglers Division at Wellswood Youth Baseball (wellswoodyouthbaseball.org) without having to go through the stress of team tryouts. The fall program gives your child the opportunity to be on a team and learn basic skills while having fun and making friends.
Red Berry's Baseball World
Red Berry's Baseball World (redberry.net) in southern Florida has a 12-week Rascal league program for 3-year-olds to learn basic skills. Your little rascal will be introduced to baseball, earn daily awards, play games and be ready to join the Winter Break Camp after his fourth birthday.
i9Sports
It's frustrating when you find a fantastic baseball camp program but it's on the other side of the state. Taking a preschooler across the state to play baseball is a nightmare most parents aren't willing go through. Rather than have one central location, i9Sports (i9sports.com) has several franchises throughout Florida so you're more likely to find one closer to home and save yourself a headache and a large gasoline bill. The baseball program at i9Sports for 3-year-olds focuses on hitting the ball from a tee, so you don't have to worry about your child getting hit with the ball or ducking and hiding when he sees the ball fly by.