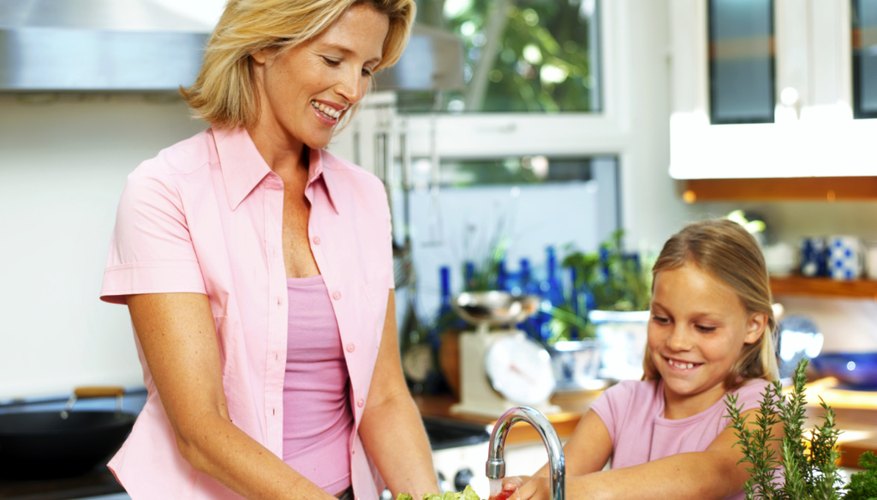 Getting your toddler or preschooler to try culturally-diverse foods might seem impossible. However, if you introduce dishes in conjunction with a specific holiday, such as the Chinese New Year, the novelty of the special occasion might tempt your picky eater. Stick with simple, no-bake recipes, and let your child help with the preparation. Chinese New Year occurs on the day of February's new moon, but plan to spread your dishes out, since the traditional celebration lasts for about two weeks.
Lettuce Wraps
Lettuce wraps are easy to make and serve as a kid-friendly introduction to Asian cuisine. To create, use any assortment of vegetables and leftover meats. The key is to chop ingredients into bite-sized pieces, and dress your wraps with a tasty sauce. Combine bits of a cold, leftover roasted pork or chicken with diced peppers, cucumbers and carrots. Let your preschooler help you stir together a dipping sauce, using hoisin, peanut butter, lime juice, canola oil and soy sauce. Combine these ingredients to taste, allowing your little chef to give final approval. Offer your youngster the prepared selection of ingredients for use in stuffing an iceberg lettuce leaf. Dress with dipping sauce and enjoy.
Fruit Salad
Your toddler or preschooler might already be a fan of fruit salad. Build on this familiarity by giving the dish a Chinese-cuisine twist. Collect a few fruit staples such as red and green grapes and bananas. Slice the fruit pieces up and toss them in a bowl. Add one or more exotic fruits to the mix, such as pineapples, papayas, kiwis or guavas. Allow your preschooler to choose which by offering him a small taste of each. Combine all selected fruits, letting your child drizzle toasted coconut over the top as you toss.
Sesame Noodles
Sesame noodles are a Chinese noodle shop staple. Create a cold version using leftover or pre-cooked and chilled noodles. Noodles that you have handy -- spaghetti, linguine or egg noodles -- will work here. For the noodles' sauce, gather soy sauce, peanut butter, sesame oil, rice vinegar and a pinch of sugar. Place ingredients in a food processor or blender and combine until smooth, allowing your preschooler to help you push the machine's buttons under supervision. Once combined, give your youngster a chance to taste test and then assist you in blending the sauce together with the noodles.
Extra-Special Fortune Cookies
There's nothing fancy about fortune cookies. It's the message inside that makes them special. However, you and your toddler or preschooler can spruce up basic fortune cookies by embellishing them to suit your own tastes. Melt some chocolate chips or caramel chunks in the microwave, dip a few cookies in and let them rest until the chocolate or caramel is almost set. Your child can then grasp a cookie by its un-dipped side and roll the dipped side in sprinkles, crushed peppermints or other topping of choice. Allow decorated cookies to cool completely and enjoy.