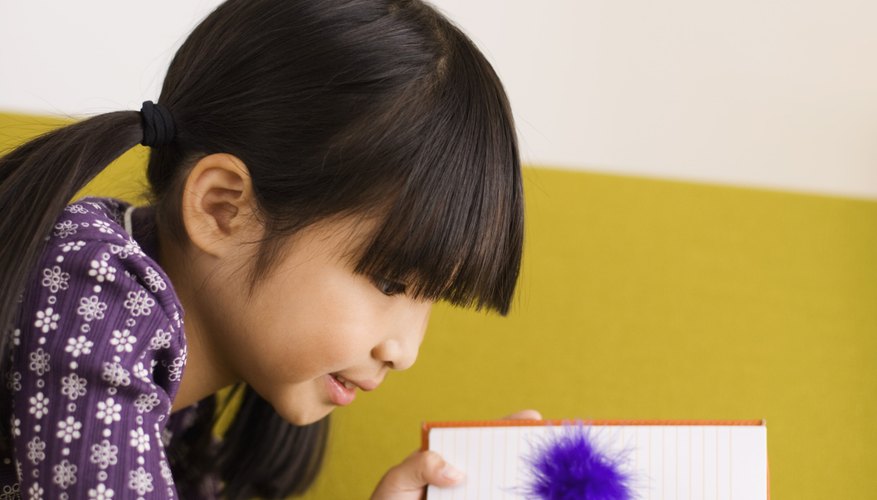 The task of writing seems pretty straightforward, but it's actually more complicated than you might think. Experts at the Kids Health website agree, "Writing is one of the most complex tasks that humans engage in, involving both motor and critical-thinking skills." To help your child become a better writer, it's important to first realize that good handwriting may not be as easy as it looks.
Multisensory Activities
If your younger child has trouble with letter formation, sensory activities may help. Sensory activities bring the letters off the paper and into your child's hands in a sort of three-dimensional experience. Shaping letters out of clay or chenille sticks and writing them in sand with a finger are examples of sensory activities. Alternatively, give your child a bowl of mini-marshmallows or small candies and a letter guide, such as a flash card, and let him practice forming the letters with food.
Dry Erase Books, Cards and Boards
Dry erase markers and wipe off books are ingenious writing tools for kids suffering from sloppy handwriting. You can find them in manuscript and cursive, appropriate for all grade levels, although the graphics in the books and cards are almost always geared toward young kids. If your older child feels silly using a wipe-off book, invest in a white board and a nice set of colorful markers, hang it in his room and encourage him to write on it daily.
Journaling
Journals and diaries are inventive tools for older children who have questionable writing skills. They're more entertaining than worksheets, and they give him more freedom to write about things he actually finds interesting. Buy a journal and present it to him as a gift. If you take a low-pressure approach, he won't even pick up on the fact that you're giving him the gift of homework. Encourage him to write in it daily, about everyday events, but don't pressure him to show or share it with the family.
List-making
Lists are easy to write. They generally consist of single words in a line, and for a kid who hates to write, making a list can be much less overwhelming than sitting in front of a worksheet full of blank lines. Give your sloppiest writer the privilege of being the family list-maker. Grocery lists, movie-rental lists, birthday and Christmas lists -- the opportunities go on and on, and every list he makes gives him that much-needed penmanship practice.