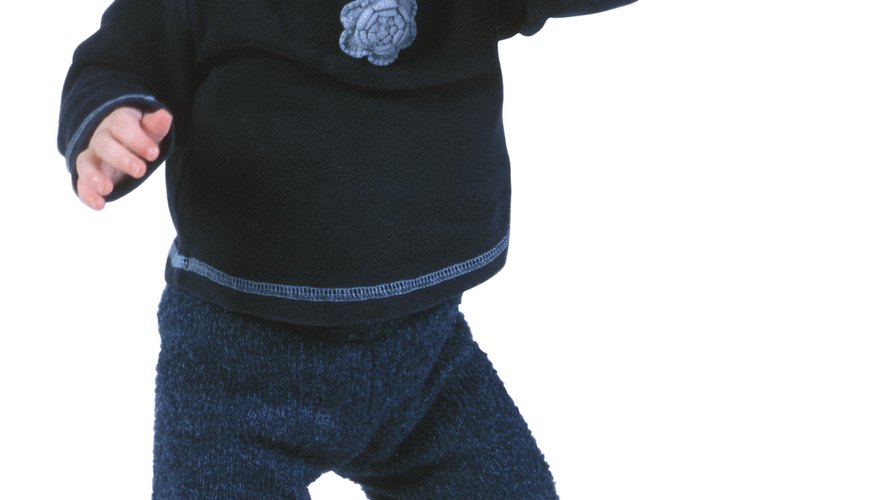 The best types of activities for toddlers are age-appropriate and prepare them for physical, social, emotional and academic development. Toddlers grow and learn through both structured activities and unstructured activities such as free play. Providing opportunities for social interaction through a variety of activities helps them develop appropriately and sets a foundation for future success.
Reading Books
Read age-appropriate books to your toddler. Picture books help toddlers learn to hold books correctly, turn pages and teaches them that pictures have meanings. In addition to picture books, read storybooks to your toddler. Listening to stories provides toddlers with the foundation they need for preschool and kindergarten language readiness skills. Storybooks help improve imagination and introduce toddlers to the written word. They learn that words have meanings, and using words correctly improves their communication skills.
Building Blocks
Traditional wooden building blocks (or any other kind your little one can get his hands on) encourage imagination, improve motor skills and provide opportunities for social interaction with other children. Toddlers can use blocks to build buildings, create animal figures, construct roadways and even whole towns. If toddlers can imagine it, they can build it using blocks.
Tissue Paper Crafts
Tissue paper crafts provide opportunities for toddlers to pinch, pull, tear and scrunch up thin pieces of paper to create a work of art. They improve muscle tone and flexibility in their hands while improving hand-eye coordination as they arrange the tiny paper pieces and glue them into place. Tissue paper crafts allow children to explore texture and enjoy the various crinkling noises as they work.
Sing Songs
Sing songs with your toddler and encourage movement and dance. Singing helps toddlers develop a love for music and, according to KidsHealth.org, music provides children with a sensory environment that exposes them to a variety of sounds, colors and textures. A rich musical environment helps stimulate pathways between cells and brains, call "neural connections." Children involved in musical activities usually do better in reading and math, have better ability to focus and have higher self-esteem.
Sensory Box
Create a "sensory box" for toddler exploration. Find an empty shoe box or another reusable container and fill it with small items such as beans, beads, foam shapes, cotton balls and anything else you can think of to make it interesting. If your toddler puts things in his mouth, opt for larger items to avoid a choking hazard. Allow your toddler to place his hand in the box and explore. You can put a blindfold on him and see if he can guess the items. Try creating themed sensory boxes for different instructional themes or holidays.
Water Play
Toddlers can play in water all year long. During colder months, place a tub of water on an indoor table. Allow children to dip cups, bowls and other water toys into the water. They can splash around and pour water as they experiment with the various containers. During summer months, allow your toddler to play outside in a wading pool or under a sprinkler.
Sand Play
Toddlers learn to shape and mold objects as they manipulate sand with their hands. Sand provides sensory stimulation as children dig into the sand, feel around and allow the sand to pour through their fingers. Of course, a bucket and a shovel only add to the fun. Dampening sand with a little water helps it mold more easily. It is a little messier, but toddlers enjoy combining sand and water activities. Place a tub of water and a tub of sand on a table for sand and water play, or buy a sand-and-water table, which holds sand on one side and water on the other. It stands on the floor so toddlers can move around the table freely as they play.
Sorting
Sorting objects by size, shape and color helps toddlers develop organizational skills. Avoid frustration by understanding that some toddlers develop this skill later than others. Begin with two categories, such as two sets of objects that are exactly alike, except for color. Try sorting red and green same-sized counting beans. Add variety as your toddler develops her sorting skills.
Measurement
Teach measurement by comparing objects. For example, have your toddler line up a row of oranges on a table. Ask your toddler, "How many oranges does it take to stretch across the table?" Ask him to line up a row of dinner rolls or jelly beans across his favorite picture book and then count how many are in the row.
Free Play
Don't forget to allow your toddler time for free play. Free play gives your toddler the freedom to explore her natural environment. Free exploration helps her develop physically as she bends, stoops and runs around to accomplish her self-set goals. Allowing free play time with peers helps her develop communication skills and build relationships.