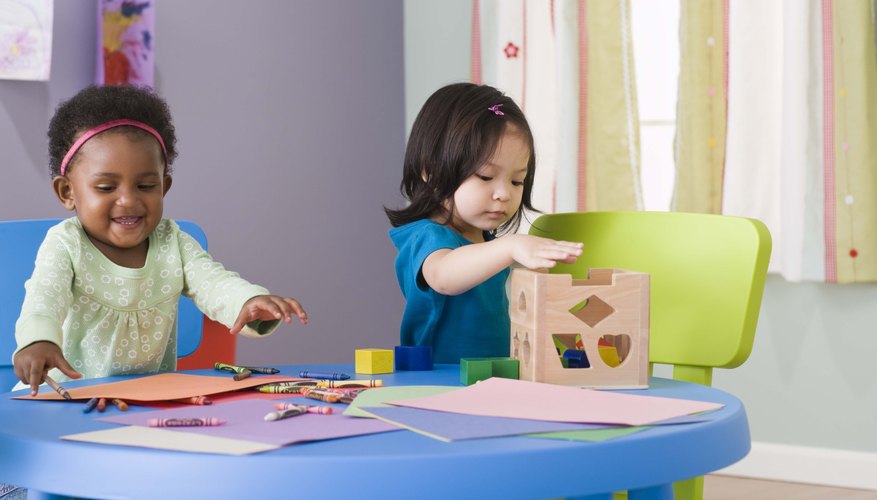 Participating in a toddler program can help your little one channel all of that rambunctious energy into something positive. Frederick, Maryland, named by Forbes.com in 2008 as the 2nd smartest region in the country, offers many toddler program options to stimulate your little one's brain. Your little busy bee can gain important fine and gross motor, as well as social, skills in programs ranging from dance to art. You can also get a break from being the sole entertainment and enjoy the company of other parents and toddlers.
The Little Gym
The Little Gym of Frederick (thelittlegym.com) offers classes that encompass several aspects of early childhood development. The Parent and Child will introduce your budding Einstein to colors, language development, physical strength and muscle control, problem solving, sharing, socialization and other skills, all while you participate and share the fun. Toddler classes are broken into age groups of Beasts, ages 19 months to 2 1/2 years, and Super Beasts, ages 2 1/2 to 3 years. Join in the fun on your schedule, as several class times are available.
The Frederick County Public Library
The Frederick County Public Library (fcpl.org) has several close area branches, with the Urbana and C. Burr Artz branches in Frederick. Baby and Toddler Yoga Story Time lets your little yogi explore movement and play along with stories and music. There are seasonal programs available, such as the Summer Reading Program, with prizes for reading books at home, and Celebrate Winter, with crafts, songs and stories.
Elite Feet Dance Studio
Elite Feet Dance Studio (elitefeetstudio.com) offers an Early Child Program that provides toddlers a strong dance foundation. I Can Dance is a 30-minute class for the 2 1/2- to 3-year-old toddler. Your little one will gain improved balance and flexibility in this creative class. Plus, class sizes are small so your child will stay moving and focused the entire time. Hip Hop classes are offered for preschoolers, ages 3 to 4. Hip Hop will teach your child to bust a move with easy-to-remember names, like Shine the Floor and Squish Your Knees.
KidzArt
KidzArt (kidzartfrederick.com) offers Frederick toddlers a Squiggles to Grins art class for ages 2 to 3 1/2 years. Your future Van Gogh will be introduced to lines and shapes through activities using washable paint and other non-toxic mediums. You and your child will also be involved in the storytelling, sing-alongs and poetry that accompany the class. Squiggles to Grins is a 35- to 45-minute program with lots of interaction and socialization.