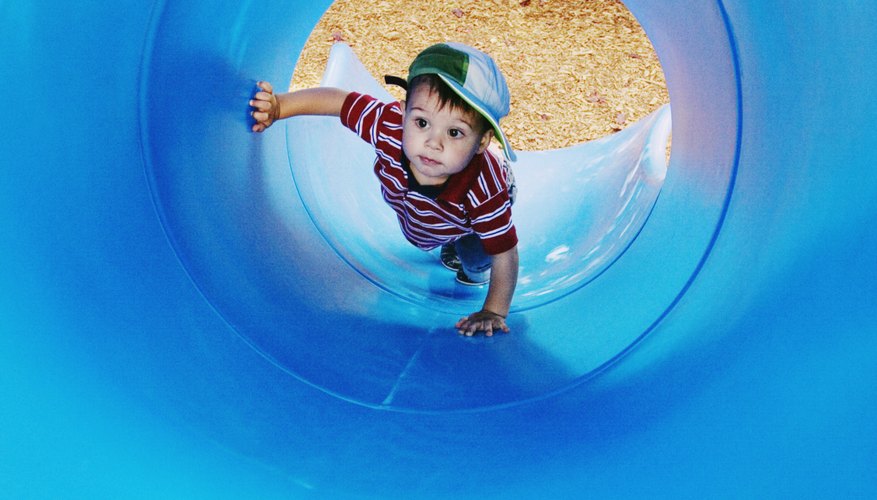 If you're traveling through Massachusetts with your toddler, don't forget to stop in the historic town of Dedham. There's lots of fun and interesting things to do and see, including toddler-approved playgrounds, odd museums and grand cinemas where your child can see his favorite characters on the big screen. You certainly won't hear "Mom! I'm SO boreddddd," as your tiny tot tugs at your jeans, as this will be a trip to remember. To keep your toddler happy and busy during your stay in Dedham, check out the wonderful places to visit in town.
Capen Street Playground
Running, jumping, crawling and sliding, while scaring mom out of her wits, are just a few of the things toddlers can enjoy at the Capen Street Playground (no website; 199 Capen Street, Dedham, MA). The beautifully landscaped playground is baby-friendly, recommended for children between the ages of 2 and 12 years of age. While your child is busy mounting the SpyroSlideu2122 or creeping military-style through the crawl tunnel, mom can enjoy the stunning layout of the visitor benches and sidewalks that lead to the focal point of the plaza--the playstructure.
Museum of Bad Art
Children love to explore and learn new things, and museums are an enlightening way to allow your little Picasso to see a wide variety of art pieces. The Museum of Bad Art (museumofbadart.org) is the only one of its kind in the world, dedicated to collecting, preserving and celebrating only bad art. Your child's curiosity may get the better of him as he "oohs" and "ahhs" over "bad art" collections like "Blue People" and "Unseen Forces"–a giant orange cat trying to take over the world.
Showcase Cinema de Lux
The Showcase Cinema de Lux Legacy Place (showcasecinemas.com) is a family-friendly venue, equipped with party facilities and top-notch technology, like digital cinema on every screen. When selecting a suitable film for your tot, skip the action movies and scary flicks, as your toddler won't share your appreciation of the great "unknown" if you decide to see "Paranormal Activity 4." Opt for a friendly animated film, such as "Finding Nemo 3D."
Blue Bunny Books
Finish off your day in the historic town of Dedham, Massachusetts with a visit to Blue Bunny Books & Toys (bluebunnybooks.com). As you search for new books to read to your tot, he can check out the wide range of toys, art supplies and puppets. Toddlers will love to visit Blue Bunny to check out all the exciting things to do, including the Creativity Workshop for scheduled events like storytime, and other special events like book signing parties, meet the author and International Dot Day, which celebrates the spirit of creativity.
Dedham Public Library
The Dedham Public Library (library.dedham-ma.gov) hosts a number of services for children of all ages, including story times that are held several times per week; registration not required. The Dedham Library has plenty of new activities and events for young children to enjoy, including art and music instruction, children's theater, fairs, free music and movies, and holiday and literary events. Toddlers will love looking at the picture books that the Dedham Library receives on a regular basis, including newer books like "Fall Colors" by Brian Enslow and "Little Owl's Night" by Divya Srinivasan. Your tot can even get his own library card and check one of his favorite books out at the end of the visit.
Animal Rescue League
Looking for something to do in Dedham with your animal-loving toddler? Take a drive to the Animal Rescue League of Boston (home.arlboston.org). This animal shelter is home to a wide assortment of animals just waiting to be adapted to their forever homes. Your toddler may have the chance to take a peek at the cats, dogs and other animals looking for homes, including birds, rabbits, mice and even roosters. Don't forget to bring along a monetary gift or even food or toys for your child to donate.