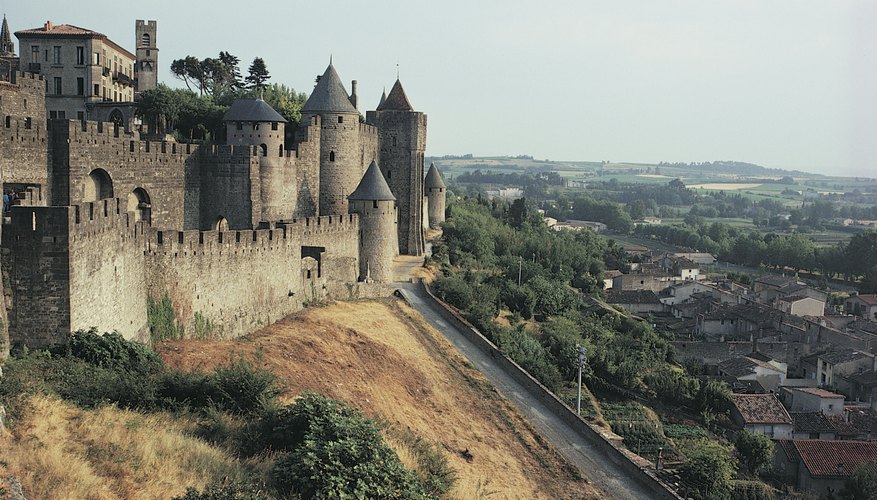 The Cote d'Azur, along the southern coast of France, welcomes 34 million tourists per year. It is the second-most popular destination for foreign visitors, behind the Ile de France, and is the top spot for tourists who come from other parts of France. Of these tourists, more than 70 percent are groups of families and friends, there to enjoy its beaches and mountain splendor and experience its rich heritage of historic buildings and archaeological sites. If your kids prefer something a little more active than simply gawking at the sights, though, the area also boasts several theme parks, play places and other lively, kid-friendly attractions.
Outdoor Adventure
Spend a day in the outdoors with a trip to Le Bois des Lutins. This forest playground consists of platforms and tree houses where kids can spot shy woodland creatures such as elves, fairies and gnomes. Little daredevils can climb as high as 14 yards on the netted walks, but children who prefer to stay on the ground can visit a troll cave or play on the swings and giant inflatables. Kids who enjoy a challenge should try LabyFolies, which is a giant labyrinth full of obstacles. This attraction, open from April through November, has a different theme each year, and successful completion of the maze is rewarded with a visit to Crazy Village with its rides and water play area.
Indoor Fun
Even on the Cote d'Azur, not every day can be sunny and pleasant. When you're in need of somewhere indoors to take the kids, Fun City offers an indoor play center for children up to 12 years old. Activities include ball pits, bouncy castles and go-karts, and a separate play area is available for babies. If your stay in the Cote D'Azur is a long-term one, Kidooland and Le Kids Club offer classes, clubs and after-school activities such as music, dance, cooking and science exploration. Both facilities also sponsor camps and programs for children during school holidays.
Ocean Attractions
As befits its coastal location, the Cote d'Azur has several sea-themed attractions. The Oceanographic Museum of Monaco allows kids to explore a touch pool of starfish and sea urchins, and even pet a baby shark. Exhibits devoted to sharks and tortoises are also popular, as is the Sea Cinema, where films on ocean life are shown. At Marineland, kids can see polar bears, penguins and sea lions and walk along a 30-meter tunnel through a shark tank. Marineland also contains a water park called Aquasplash, where kids can get wet riding the water slides.
Touring
Sightseeing can be tiring, especially when you're accompanied by small children, but taking the train can be a relaxing, enjoyable way to see the Cote d'Azur. The Mini Train runs around the city of Nice itself. Some of the sites you'll see from this tourist train include Old Town, the Flower Market, the Promenade des Anglais, Massena Square, Castle Hill and the Quai des États-Unis. The Train des Pignes, while not a tourist train, will take you from Nice to the ancient spa town called Digne-les-Bains. En route you'll pass rivers, mountains, viaducts and quaint little country villages, and you can get on and off the train as you like.