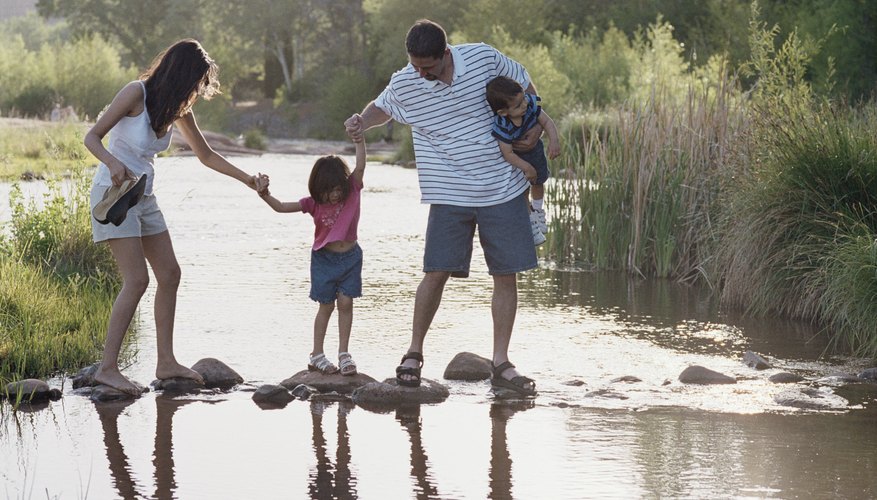 The capital city of Harrisburg, Pennsylvania, features a number of attractions, including an island in the middle of the city, and is just minutes from "Chocolatetown," otherwise known as Hershey. During your time in this city along the Susquehanna River, you will find several activities to keep your toddlers busy.
Museums
Although toddlers may not fully understand all of the exhibits at most museums, a few sites in Harrisburg especially cater to the little ones. The State Museum of Pennsylvania features an area called "Curiosity Connection." Geared for children 1 to 5 years old, it has interactive displays such as a construction zone, a multi-sensory forest, a tot-sized farm complete with a truck to drive and an erasable glass wall for art expression. For science exploration, the Whitaker Center has a corner set aside for toddlers called KidsPlace, featuring climbing tunnels, waterworks activities, an aquarium, a 3-story playhouse for construction fun and a performing arts theater filled with costumes and props.
Games and Rides
A major hub of recreation in Harrisburg is on City Island. Situated in the middle of the river, the area features a number of toddler-friendly options. Introduce your tots to miniature golf at Water Golf on City Island -- just try not to let them get distracted by the cascading waterfalls and other fun elements of the course. The island also features steam train and carriage rides, an antique carousel, playgrounds and sandy beaches. The Pride of the Susquehanna is a riverboat cruise that would be a thrill for you and your young one. Departing from City Island, it has family night cruises featuring karaoke, face painting, pizza, crafts, storytelling and magic shows.
Wildlife and Education
Wildwood Park is a great place for wildlife interaction. The park features a nature center with a glass-enclosed bird viewing area, children's book readings, a tree to climb through and other nature-focused activities. Outside you can hike through the nature preserve and lake area, keeping your eyes out for critters roaming around. McCormick Riverfront Library has been operating in the same location since 1914. The classic stone building has 7,000 square feet of space. Toddlers will enjoy the storytelling time using rhyming and rhythm.
Parks and Playgrounds
The city of Harrisburg maintains dozens of parks ideal for unstructured toddler play in the outdoors. The Pleasantville Playground features green space and on-site staff during the summer. If you prefer a larger park for your toddler to roam free, Reservoir Park offers 90 acres of space with a large playground, picnic tables and lots of open fields. For an excellent place to take a walk, the Capital Area Greenbelt is a paved walkway that traverses around the city, through gardens, out to City Island and to many other city parks.