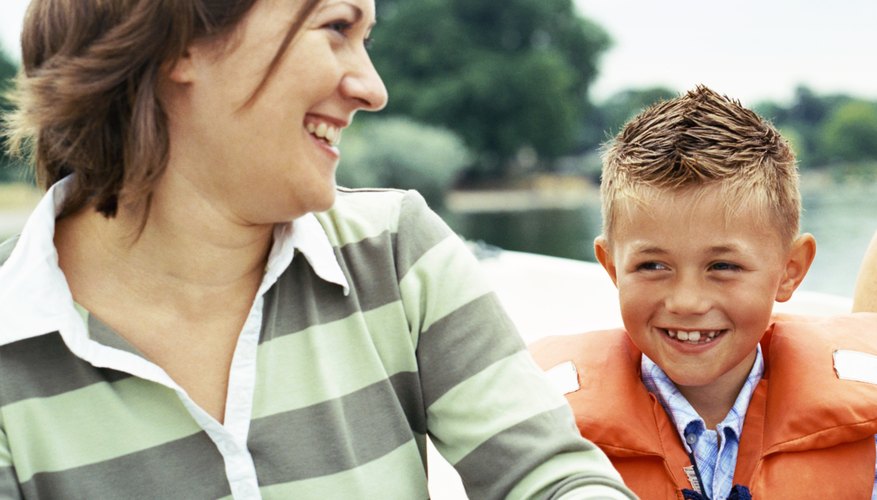 Recreational activities in Lake Stevens, Washington, take place on or near the lake, which offers plenty of room for water sports -- it covers more than 1,000 acres and has a shore length of 7.1 miles. Lake Stevens also boasts 60 acres of park and forest area. When you include the jurisdictions adjacent to Lake Stevens, that park area goes up to nearly 195 acres. The city also hosts several festivals that children might find enjoyable. Visitors willing to take a short drive can also visit a children's museum.
Activities on the Lakefront for Children
Kids who love swimming will want to visit the North Lakeshore Swimming Beach. The beach is open daily from 5 a.m. until dusk. In addition to the beach, it has restrooms, public parking and a swimming dock. Lundeen Park also has shoreline access for swimmers. Families can also use Lundeen Park's playground, covered picnic shelter, public dock and basketball court.
Fishing and Boating at Lake Stevens
The city stocks the Lake Stevens annually with rainbow trout, and perch and bass thrive in the lake naturally. For pier fishing, take the kids to Northcove, Wyatt or Sunset Park. If your family prefers fishing from a boat, visit the public boat launch at 17th Place Northeast. Wyatt Park also has a boat launch.
Explore the Outdoors
Lake Stevens is at the halfway point of the Centennial Trail, which connects the nearby cities of Arlington and Snohomish. The multipurpose trail allows horseback riding, bicycling and hiking. Families can enter the trail from Catherine Creek Park. Bike and skate rentals are available at a railroad replica just south of the Catherine Creek trailhead.
Lake Stevens Festivals for Families
Lake Stevens has several festivals that take place throughout the year. Aquafest, which occurs over Fourth of July weekend, is the biggest. This festival has a variety of sports competitions, a carnival, boat races, and entertainment that includes a water-ski performance. Those who visit in the fall will want to attend the Bull Trout Regatta. Winterfest is in December.
The Imagine Children's Museum
Travelers willing to drive 20 minutes to the city of Everett can visit the Imagine Children's Museum. This museum has educational exhibits that give kids hands-on experience with music, farming, health clinics and building construction.