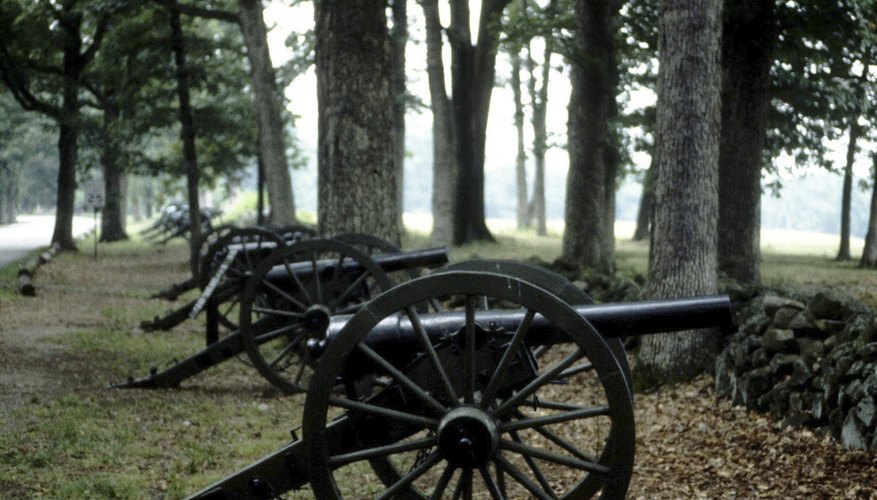 Adams County encompasses the Gettysburg, Pennsylvania area and is named after the second U.S. President John Adams. Adams County is located in the south central portion of the state, and is rich in history, as it was the site of President Abraham Lincoln's Gettysburg Address and the Battle of Gettysburg. Families visiting this area will find an abundance of activities for their children to enjoy.
County Museums
You can take your kids to visit some of the county's museums, like the Gettysburg National Military Park Museum and Visitor Center. Your family can watch a history film, walk through the 12 exhibit galleries, enjoying the interactive displays and assortment of artifacts, and take a tour of the 6,000-acre Gettysburg Battlefield. At Explore and More, a children's museum in Gettysburg, your children can get hands-on with exhibits, like making works of art in the Arts Room and experimenting with gears in the Construction Zone. In the 1860s Room, kids can play pretend in the Civil War era general store and house to see what it like to live in that time period and in the Nature Area, you'll find exhibits with things like frogs, mice and hermit crabs. In Biglerville, 7 miles from Gettysburg, you can visit the National Apple Museum, from May to October. You will find exhibits about the early harvesting, packing and shipping of apples and other fruit, including photos of early orchards, processing equipment and various farming implements.
Animal Activities
In Fairfield, 8 miles from Gettysburg, you can take your children to visit an array of wild animals at the East Coast Exotic Animal Rescue. This facility provides refuge and a home to more than 40 types of exotic animals, like reptiles, birds and carnivores, including alligators, tigers, monkeys and parrots. Drop by on the weekends or schedule a tour during the week to get an up-close look at some of the animals there. At the Lands of Little Horses Farm Park in Gettysburg, which is named after their famous miniature horses, your family can enjoy an animal show, visit with the animals or participate in one of the special events that take place like Kids in the Country Day Camp, where kids can spend a week learning about basic animal care and responsibility or Fall Festival, where families can experience the beauty of the fall colors, navigate a maze and enjoy family activities.
Family Fun
You can enjoy some family fun, indoors and out, with your children at the Gettysburg Family Amusement Complex. Attractions include mini golf, paintball, laser tag, go-karts, batting cages and an arcade. Gilly's Bowl and Grille is also located in Gettysburg and features 12 traditional bowling lanes, as well as six duckpin-bowling lanes and a grill with pizza, subs and tasty snacks. Junior bowling leagues are also available for your kids to enjoy.
Farm Activities
Fields of Adventure is located 11 miles away from Gettysburg, in Aspers, and features a variety of farm activities and adventures for families to enjoy in the fall. You can navigate a 7-acre corn maze or the mini corn maze, fly high on the zip-line or enjoy a hayride. Families can also pick a pumpkin from the pumpkin patch, go fishing or play in the corn box. In Biglerville, just 7 miles from Gettysburg, you can visit Yellow Hill Farm, a pick your own farm with flowers, blueberries, raspberries and thornless blackberries. Additionally, your family can pick your own berries, cherries, pumpkins and peaches at Mt. Joy Berry Farm, 6 miles outside of Gettysburg.