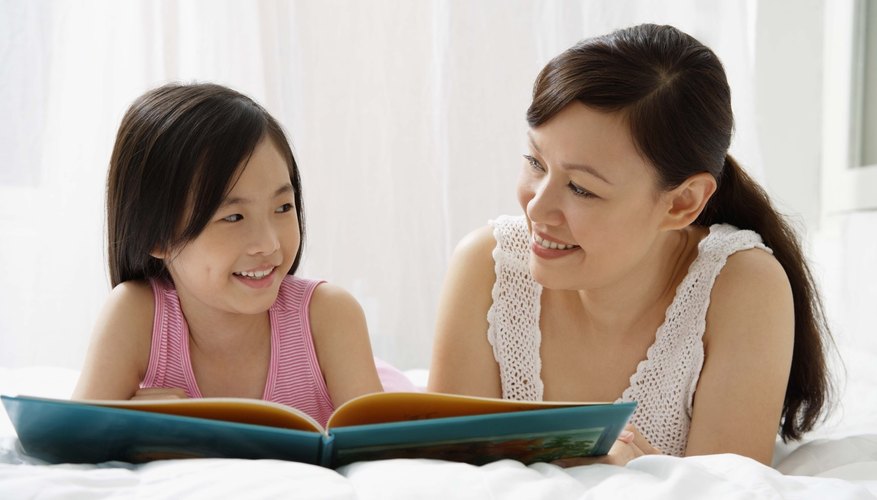 Children's social and moral behavior can be reinforced through character education. Character education covers six pillars: trustworthiness, respect, responsibility, fairness, caring and citizenship, according to the Josephson Institute Center for Youth Ethics. The key in supporting children's social and moral behavior with literature is to read and discuss books that promote positive character traits, social behaviors and social skills.
Support Social and Moral Behavior with Literature
Choose a trait to focus on. You can pick a character pillar such as trustworthiness, respect, caring, responsibility, fairness, citizenship or a simpler skill such as sharing or taking turns, depending on the age of your children.
Find books that illustrate that trait. Talk to your local librarian or bookseller or use one of the lists in the resources below. Some books that illustrate respect, for example, are "Arthur's Nose" by Marc Brown, "Clancy's Coat" by Eve Bunting, "Frog and Toad are Friends" by Arnold Lobel and "The Grouchy Ladybug" by Eric Carle.
Introduce the trait. Before reading the book to your children, let them know they'll be learning about a particular character trait or social skill. See what they know about it already.
Read the story. Take your time as you read, pause to ask or answer questions. Bring up the social and moral trait you are teaching.
Discuss the story and trait. After reading, review what happened in the story and how the characters did or did not use the trait.
Illustrate the trait. Children can draw a picture of the characters using the trait. Older children can retell that part of the story in their own words.
Find the trait. When you read other books, watch TV shows or play games, remind children of the story you read together and the social behavior it illustrated. See whether they can relate it to other stories or life experiences.
Tip
If children have trouble responding to the book through drawing or writing, have them act out the meaningful parts of the story.
Warning
Don't assume that one book about respect will be enough to teach children respect. They'll need to hear several stories, and several more as they age, for literature to support their moral and social development.