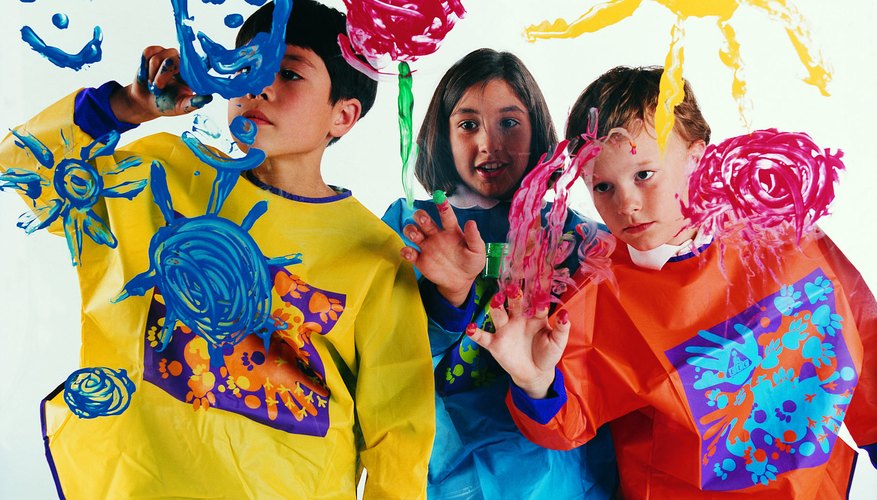 Los Angeles is the second most populated city in the U.S., and 23 percent of those residents are kids, as of the 2010 census. Those children need something to do, to occupy their time, during the summer months. If you're a parent in L.A., you'll find an array of summer programs for your kids, ranging from day camps at the city's recreation centers to programs at zoos and museums.
Recreation Department Programs
Kids in Los Angeles can participate in a free Summer Sports Academy through the city of Los Angeles Department of Recreation. This program is for boys and girls, ages 7 to 14, and teaches the fundamentals of a variety of sports, including soccer, softball and baseball. Additionally, your kids can join in on some of the summer programs offered through the recreation centers throughout the city. Kids can play baseball at the Wilmington Recreation Center, Boyle Heights Sports Complex and Banning Recreation Center. Day camps with activities such as games, swimming, arts and crafts are offered at many of the centers, including the South Seas House, Harvard Recreation Center and Echo Park Recreation Center and summer science programs are available at the Cabrillo Marine Aquarium.
YMCA Programs
You'll find summer programs for your kids at the YMCA of Metropolitan Los Angeles branches, including summer day camps where your kids can make friends, enjoy activities and learn new skills. If you're looking for a residential camp for your child, the YMCA has camps at Camp Round Meadow and Camp Harold F. Whittle, where kids can enjoy activities including kayaking, hiking, panning for gold, arts, crafts, swimming and zip-lining. In addition to camps, the YMCA offers youth swimming lessons, sports such as basketball and gymnastics and family programs, including family swim and family fun nights.
Library Programs
At the Los Angeles Public Library branches, you can take your kids for an assortment of free programs during the summer, like the Summer Reading Program, where kids can read books throughout the summer to earn prizes and free books and participate in activities like Last Days with Dinosaurs, Meet the Reptile Family, Craft Buffet and some exciting live shows. Story times are offered for kids and includes stories, singing and crafts. Your kids can also join one of the summer clubs at the library, such as Science Club and Lego Club, or you could enjoy a movie together at one of the summer movie nights.
Additional Programs
At the Los Angles Zoo and Botanical Gardens, you can sign your kids up for one of the Summer ZooCamps. Critter Club is for 4- and 5-year-olds and features themes such as Animal ABC's and Animal Imagination. Your 6- to 7-year-old can join the Wild Bunch and enjoy themes like Safari Africa or Discover Asia. Zoo Troop is for 8- and 9-year-olds and has themes that include Animal Dynasty and Rebel Raptors. Eco Explorers is for kids ages 10 to 12 and features Comic Creatures and Wild Photography. The Los Angeles County Museum of Art has an Art Camp in the summer for kids ages 6 to 13, featuring art projects involving clay, paint and unusual objects. Alternatively, your kids can go to summer camp at the California Science Center to enjoy hands-on science activities. Camp is available for preschoolers through eighth-graders.