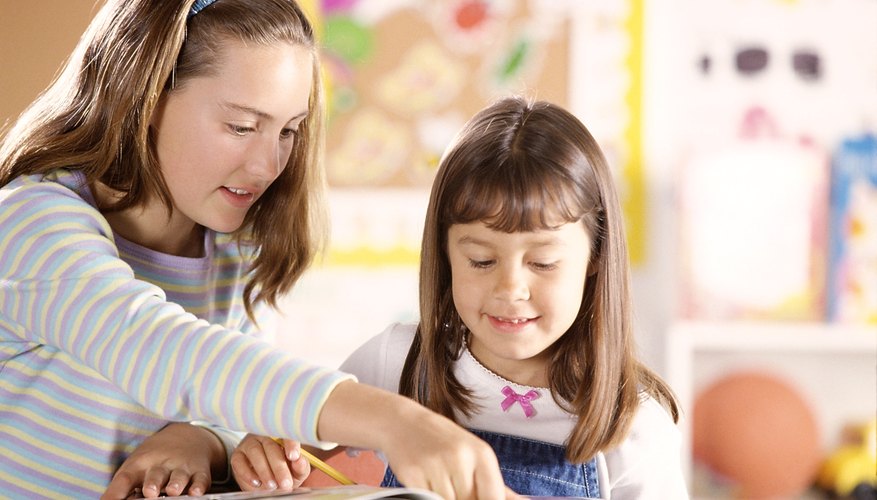 The joy of being a parent is raising your kids into successful and happy individuals. It, however, begins with understanding that children have many developmental aspects that must be nurtured. You have to ensure that the care you are giving your kids touches on their social, creative, emotional and spiritual development. They should be able to think critically, make new friends with ease, identify their feelings, and relate their lives to appropriate religious values.
Social Development
Social development involves learning the values, knowledge and skills that enable children to relate to others effectively and to contribute in positive ways to family, school and the community. Developing your kids' social skills should begin when they are very young. Parents need to be informed about how their social behavior influences the child, according to Edward Christophersen Ph.D., and Susan Mortweet VanScoyoc Ph.D. This requires you to model behaviors that are more appropriate if you want your children to have the same. For example, if you always use courtesy words such as "excuse me" and "thank you," your kids are likely to be polite and courteous. Create a close relationship with them and maintain the strong bonds throughout their childhood.
Emotional Growth
As your kids grow, they learn to respond differently to various emotions. Just like you, they can laugh and cry, or exhibit happiness and sadness. Your duty is to teach your children how to identify and respond to their feelings appropriately. This helps you control and nurture their emotional behavior. Feelings and behavior are closely linked, according to the Australian Childhood Foundation, a not-for-profit organization dedicated to supporting children and families devastated by abuse, family violence and neglect. When feelings are not well managed, your children's ability to think can be impaired. Consequently, they can act on their feelings without thinking. When your kids express an emotion, empathize with them and help them describe their feeling by providing appropriate words. Remain calm when they react negatively or exhibit an emotional outburst. Your children need you to be in control when they are not.
Creative Thinking
Many parents often wonder how they can raise a genius. The trick is in creating an environment that can help enhance your children's creative abilities and build their sense of self-belief. Promoting creative thinking is a powerful way of engaging children with their learning. Writing in a 2006 paper published at teachingthinking.net, Robert Fisher of Brunel University in England and author of 30 parenting books, notes that children who are encouraged to think creatively show increased levels of motivation and self-esteem. Buy your kids toys, crayons and paints, and help them use these tools to explore their own ideas. For example, you could give them a worksheet of circle shapes and ask them to draw different things by adding details to each circle such as sun, face, watch and cobweb. Give a strict time limit.
Religious Values
Although there are many religions in the world today, it is wise to teach your children the religious values you believe in. Spiritual growth shapes your children's religious identity. Spirituality and religion have a profound influence on children's development and socialization, according to a 2012 guide published by the United Nations Children's Fund on its website. The church, mosque or temple often provides your kids' first point of contact with religion beyond their family environment. When you take your children to these places of worship, they learn important lessons about life, morals and social behavior. Teach your children to embrace religious values such as honesty by encouraging them to tell the truth always and to let you know what is on their minds.