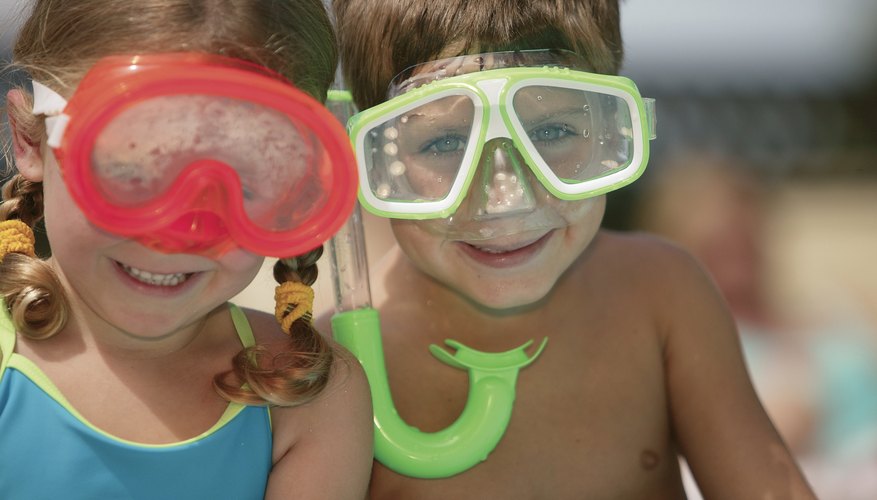 Snorkeling is entertaining for the family. If you have small children, you might be concerned about deep water, but Florida has many near-shore snorkeling experiences that provide shallow waters for your little ones. From man-made coral reefs to waters teaming with marine life, shallow snorkeling opportunities abound in Florida.
Florida Keys
Biscayne National Park has a couple of shallow-shore snorkeling options for families. Convoy Point is reachable from the mainland and offers a view of a rocky coral reef while Elliott Key requires a boat charter to access. Elliot Key has diverse marine life in shallow waters. Bahia Honda State Park provides some of the best near-shore snorkeling in the Florida Keys with large numbers of marine life. The waters are 4 to 6 feet deep. John Pennekamp Coral Reef State Park offers snorkeling off its shores in a tropical bay. Artifacts from a Spanish ship wreck can also be found 100 feet from the shore.
Florida Panhandle
Destin is the most popular shallow snorkeling location in Florida's panhandle. Two spots in Destin have near-shore snorkeling: East Jetties and the Destin Bay area. The bay area is 4 feet deep, providing shallow waters for children. The East Jetties are on the beaches of Holiday Isle and provide families with the opportunities of swimming with small schools of fish.
Greater Fort Lauderdale Area
With more than 100 reef and shipwreck sites, the Fort Lauderdale area contains the most snorkeling sites on the South East Florida Reef Tract, which extends from Miami to Palm Beach, according to South Florida Diving. The area is also home to some spectacular shallow-snorkeling experiences for children. The town of Lauderdale-By-The-Sea has a snorkeling trail just off the beach that features an anchor, concrete cannons, ballast piles and a man-made reef. The snorkeling trail was designed to honor the maritime heritage of Broward County. Dania Beach is another location for shallow snorkeling. Right off the shore in Dania Beach is a man-made reef. The reef was made from concrete jacks that have been covered by colorful coral. Abundant sea life can be found living in the reef, and with depths of 10 to 20 feet, it'll work for novice snorkelers and children.
Other Areas
Peanut Island is in Lake Worth, Florida. The beach is loaded with a variety of tropical fish and clear waters. With shallow shores, this is a prime location for families with small children. Point-of-Rocks, situated at the southern end of Crescent Beach on Siesta Key, is another shallow-snorkeling site that features waters up to 6 feet deep. Fish and various crustaceans can typically be found when snorkeling here.