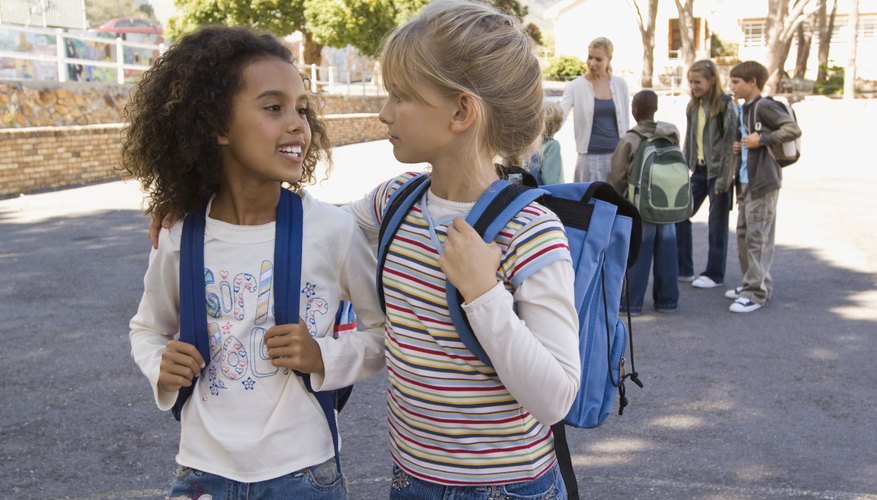 Starting school, whether for the first time as a kindergartener or as a veteran of the elementary classroom, can cause stress for parents and children alike. You may question how school attendance will affect your child in terms of academic and social skills as well as emotional competence. School certainly has benefits but also academic, social-emotional and behavioral challenges, which influence a child's self-perception, confidence and competence. How your child navigates these challenges builds life skills, which will shape his options for the future.
Academic
Common wisdom says students who attend school regularly, generally see greater success in academic achievement. Starting in kindergarten, even missing one or two days a month can slow your child's progress in reading, according to the District of Columbia Public Schools website. Good attendance helps the teacher keep the whole class on target in the desired skills and makes it easier to provide quality lessons that challenge a child at her own achievement level. This affects a child's perception of school as a desirable place to be, where she feels comfortable and competent. A good attendance record protects schools against budget cuts that would take away from their ability to provide adequate supplies for the classroom and affect the educational opportunities they can offer to optimize your child's academic achievement.
Social-Emotional
School is also a place where children gather with similar-age peers allowing opportunities for learning to handle the subtleties of human relationship in a healthy fashion. They learn one-on-one social skills as well as group dynamics and how to follow routines and procedures. For example, spending approximately six hours a day in close proximity to the same people provides many opportunities to develop friendship and conflict resolution skills. Your child can also practice how to share; handle transitions, disappointment and frustration; take turns physically and in conversation; sit quietly, and listen to and follow directions. Reaping these benefits requires the child to be present so good attendance produces the greatest effect on your child in preparing him to be successful in his future workplace and relationships.
Behavioral
"Low absenteeism is correlated to students' positive school behavior participation in extracurricular activities, higher grades and better long-term educational outcomes," reports the University of Illinois Bureau of Educational Research website. Good attendance facilitates the smooth implementation of an educational plan that keeps your child engaged in productive and enjoyable activities. When she gets a strong sense of competence and belonging at school, it discourages her from resorting to detrimental pursuits such as drugs, alcohol, gangs and crime, to meet those basic human needs.
Long-Term Aspirations
Good school attendance is the route to graduation and opens up many more opportunities for your child's educational and career paths. Prioritizing regular school attendance also lowers the risk of dropping out in the future, as your child learns the value of education and sees it as a way to attain his personal dreams and aspirations, according to the Rodel Community Scholars at Arizona State University. Whether his future involves college or work or both, the discipline of showing up somewhere on time every day and meeting assignment deadlines is preparation for long-term success in whatever path he chooses.