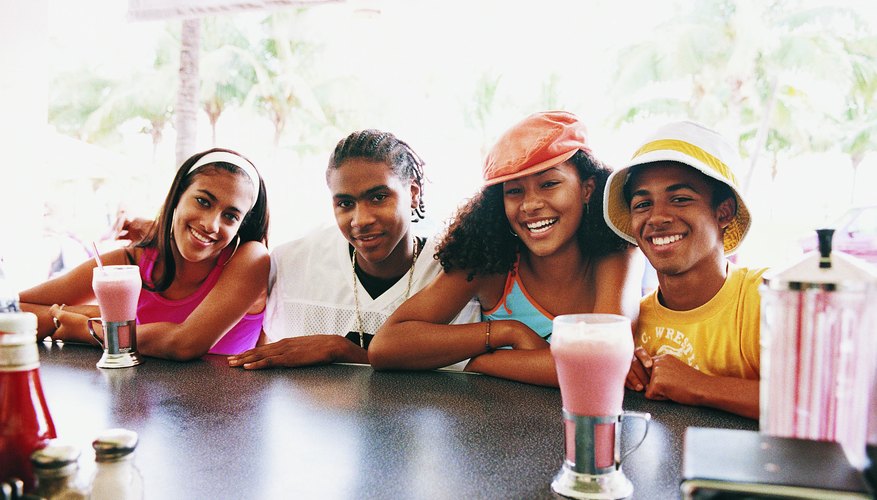 When your teen wants to date someone significantly older or younger, dating becomes especially complicated. You and your teen need to be aware of your state's laws and consider the risks inherent in teens dating outside of their age group. Most importantly, you need to be able to come up with enforceable rules and limits that work for your family.
Laws
There are no laws regulating who can date whom in the United States. As long as the parents of minor children don't object and no sexual contact of any sort occurs, teens can date anyone of any age. The laws regarding sexual conduct vary in several respects. The age of consent -- the age at which a person can legally give consent to a sexual partner -- varies from 14 to 18. All states which place the age of consent younger than 16 years of age have provisions that differentiate between an adult sexual partner and a minor sexual partner. It is not legal anywhere in the U.S. for an adult -- 18 or older -- to have sexual contact with someone younger than 16. Some states consider the age difference between a teen and her sexual partner, both in determining whether a law has been broken and in determining how severe the charges should be. Limits governing sexual contact between two minors vary from allowing two to four years' difference. Some states, including Michigan and Georgia, set a definite age of consent. In these states, it is a crime for anyone to have sexual contact with someone under the age of consent. Although it rarely happens, two teens who are both under the age of consent could technically both be charged for having consensual sex in these states, even if they are the same age.
Risks
Even if the dating or intimate relationship your teen wants to get involved with is legal, you should consider the risks inherent in allowing your teen to date someone who is more than a year or two older or younger that he or she is. The mental, emotional and physical differences between a 14-year-old and a 16-year-old are much more significant than they are between two adults of similar age differences. Bill Albert of the Campaign to Prevent Teen Pregnancy claims that research has repeatedly shown that teens who date someone older are more likely to engage in sexual behavior and to become pregnant. Studies have also shown that teens who date older people are more likely to be the victims of violence within their dating relationships. Teens should be informed of these risks and of the risk of venereal disease.
Guidelines
State legislatures and law enforcement do what they can to protect younger children and teens from those who would try to get them to engage in sexual activity before they're ready, but at the end of the day, your rules and guidelines as a parent are the ones most likely to protect your teen. Dating rules vary from family to family -- and often, from teen to teen, depending on their maturity level. Within the limits of your state's laws, you are the one who determines the limits of what you will or won't allow when it comes to the age difference between your teen and who you allow him or her to date.
Enforcement
Setting rules and limits is one thing. Enforcing them is another. Set rules that you are willing and able to enforce. In some cases, it is better to allow your teen to date someone older or younger as long as they fully understand your state's laws and your family rules. If you do allow your teen to date outside of his immediate age range, consider setting limits on how much time they spend alone and whether they are allowed to be behind closed doors together. Your teen might not like the limits you set, but they could save her from the consequences of pregnancy, disease and running afoul of your state's laws.