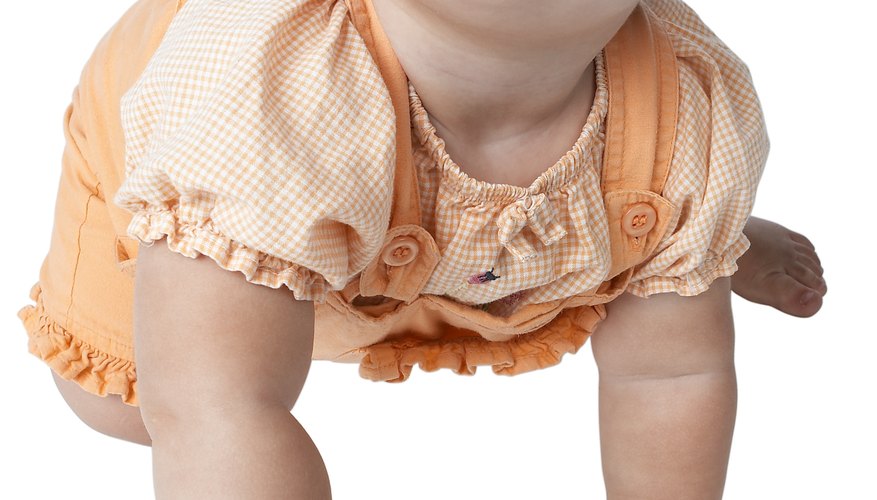 When you have a baby that spits up regularly, it gets difficult to find clothing for the both of you that doesn't feature yellowing spit-up stains. Those pesky, acidic stains won't come out when you throw the clothing in the wash. Even if it looks clean, you'll find yellow stains on freshly washed baby clothes that your child hasn't worn in weeks. The key to getting baby spit-up stains out permanently is pre-treating them with mild but effective cleaning agents such as baking soda and club soda, the sooner the better.
Blot a fresh stain immediately with a damp cloth. Do not rub in too much.
Scrub a dried and crusty stain with a stiff brush.
Sprinkle baking soda directly onto the stain, then slowly pour several drops of club soda onto the baking soda so that it starts to fizz.
Scrub gently with the stiff brush for old stains. The chemical reaction of the baking soda and the club soda helps to break down stains.
Place the stained and pre-treated clothing in the washer and wash with warm water and a mild, baby-safe detergent.
Hang the shirt outside on a line to air dry by the sun. The heat of a dryer can set in stains further.
Things You Will Need
Damp cloth
Stiff brush
Baking soda
Club soda
Mild detergent
Tip
Add an oxygen-based, power-boosting cleanser to adult clothing with baby spit-up stains to help stain removal. Avoid using on baby clothes, however, as the leftover residue on the clothing can irritate your baby's skin.
If the stain has lightened but not completely gone away, dab lemon juice on the stain and lay it out in the sun, which will react like a natural bleach to lighten the stain.