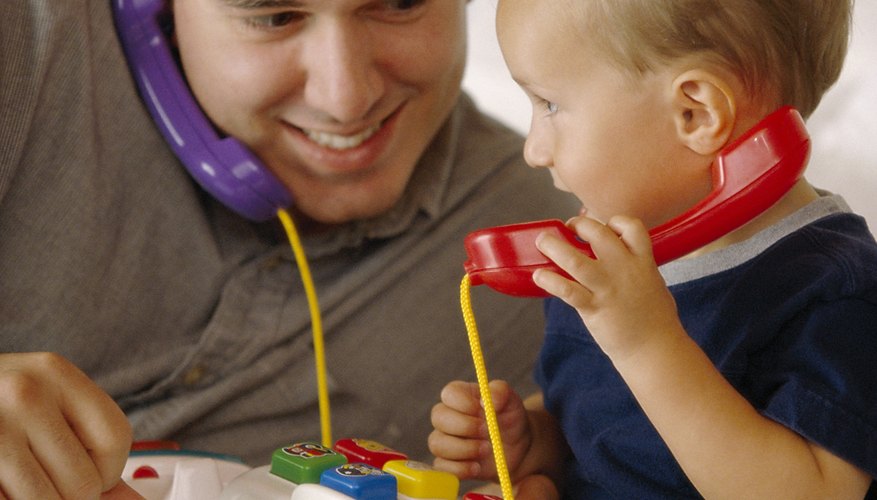 While each child is different, the path to your infant's or toddler's language development is fairly predictable, explains Mayo Clinic. Armed with a basic understanding of how and when most children usually acquire language skills, you'll be better equipped to take a more proactive, rather than reactive, role in recognizing and addressing potential problems with her language development. If your infant or toddler fails to reach important milestones within the generally accepted time frame, for example, you'll be ready to consult with her pediatrician or other expert.
Risk Factors
Knowing some of the factors that can influence your child's language development will help you identify risk for problems. Premature birth, reports New York State Department of Health, as well as a difficult pregnancy or substance abuse during pregnancy can sometimes result in communication and developmental problems. Health care professionals are often proactive in these cases, screening your child as an infant and later during the toddler years for hearing and other developmental delays. It is also important to know your family health history, adds NYSD, as some risk factors for language development problems might be genetic.
Milestones
If you are concerned that your child isn't reaching the expected language milestones within a reasonable time frame, check with your pediatrician to see if she recommends assessment for potential problems. By age 2, for example, your little one should have a vocabulary of about 50 words but will understand even more, reports Mayo Clinic. He should be able to use simple adjectives such as "hot" or "big," and he should be able to link two words together to form simple sentences, such as "my ball," or "more juice," and, adds Mayo Clinic, you should be able to understand some of his words.
Nurturing Environment
To help prevent language delays or problems with your child's speech development, he needs a safe, secure environment, explains Early Childhood News. It's important, adds ECN, not only that you speak to your child and encourage him to speak to you as well as to others, but that you actively engage him in conversation. You can encourage your infant's or toddler's speech development by singing songs with him or reading to him, suggests Mayo Clinic. Ask your toddler questions that require more than a one-word answer and acknowledge him when he answers, advises Mayo Clinic, even if it is hard to understand his words.
Clinical Problems
If you are worried that your infant or toddler might have a clinical problem with her language development because she isn't hitting expected milestones, keep in mind that it could be the indirect result of some other development disorder. Hearing loss, autism and neurological problems can negatively impact language development, explains New York State Department of Health, as can cognitive or motor delays, including oral-motor or feeding problems. It is always a good idea to take a comprehensive approach, advises NYSDH, by assessing other areas of development when a communication problem is identified, and assessing communication when other problems are diagnosed.