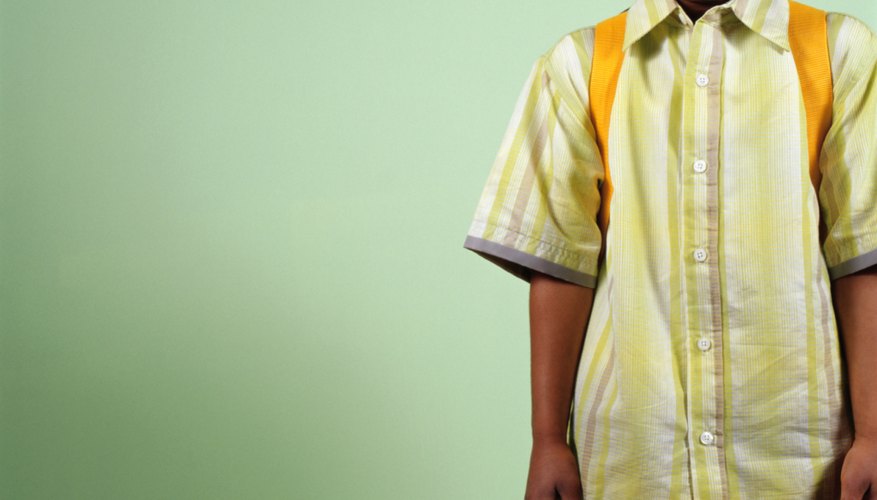 When parents help their children strap on their bookbags and usher them out the door for a day at school, they do so expecting them to return with their heads full of knowledge and their bodies uninjured. Unfortunately, things don't always work out this way. While nothing you can do will completely ensure that your child doesn't fall victim to an at-school injury, being aware of the risks can help you work proactively to reduce them.
Bullying
In a 2011 Centers for Disease Control study, 20 percent of students in grades nine through 12 reported experiencing bullying at school. Incidents of bullying can range from verbal to physical. Bullying victims face may also be more prone to self-injurious behavior. Parents should speak openly with their children about bullying and share concerns with school administrators to minimize these risks.
Outsider Perpetrated Violence
Though relatively uncommon, news reports of ill-intentioned outsiders killing or injuring students keep parents fearful. Though in some cases well-established safety plans fails to prevent incidents of this type, parents eager to do something about this problem should familiarize themselves with the safeguards present in the school.
Student Perpetrated Violence
In some instances, children face risks not from outsiders but instead from peers. To reduce the risk of student-perpetrated violence, schools should have clear threat response plans and strong mental health supports to reduce the likelihood of students turning to violence.
Trip-to-School Risks
Children face many risks when in transit to school. Parents can reduce their children's risks of injuries in transit by speaking to them about stranger danger and discussing safety procedures for walking on busy streets.
Medical Issues
Students are at risk of contracting an illness if staff members are unaware of safe handling procedures for bodily fluids. While most states require that school staff receive training on these topics, concerned parents can speak with administration to ensure that the school is meeting these requirements.
Children with distinctive medial needs, such as allergies, face even greater risks. Parents whose children suffer from these enhanced medical needs should communicate with the school regularly.
Playground Risks
In 2001, more than 200,000 children under the age of 14 suffered an injury on the school playground, reports the Centers for Disease Control. Parents can minimize this risk by remaining cognizant of the upkeep of playground equipment, as children aren't exposed to as many risks when playing on equipment that is in good condition.
Natural Disasters
Natural disasters can strike at any time -- even when kids are in school. Schools are legally required to engage in safety drills for natural disaster response. Parents with concerns should speak to building administration and ask to see their response plans for natural disasters.
Fire
If fire impacts a school, the students are at immediate and serious risk. Schools work to minimize these risks by posting escape routes and engaging in regular fire drills. Parents should speak to their children about fire-related safety efforts they witness at school, says the National Association of School Psychologists (NASP).
Lab Safety
Particularly in upper-level grades, when students engage in lab experiments with potentially hazardous materials, the science lab presents a risk. Parents concerned about this issue should ensure that the lab is up-kept, materials are labeled and adequate ventilation is present, according to Oregon OSHA.
Building Upkeep
Though parents commonly overlook this risk, a building in need of upkeep can expose children to substantial risks. When visiting the school, concerned parents should visually inspect the space, looking for any clear risks, including electrical hazards, ceiling damage that could indicate roof leaks and the presence of hazardous materials, including asbestos. Parents who find these risks should address concerns to building administration.