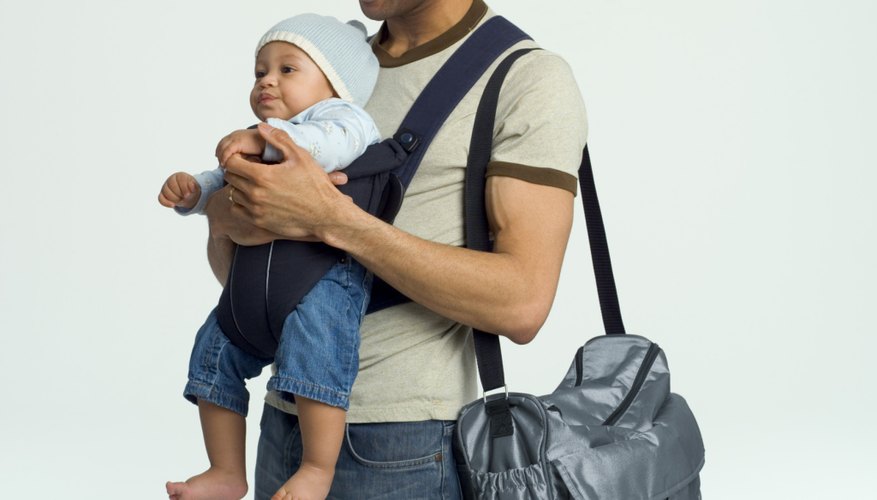 When your maternity leave is up, you'll need to arrange for your baby to attend day care while you go to work. Since day care centers don't provide the essentials your infant will need throughout the day, you'll need to pack them in a diaper bag. It is best to make a list of the items your baby needs and check that list each morning before heading out the door. This ensures that your baby's diaper bag is always properly stocked.
Start off with the items your baby needs for diapering. Place one day's worth of diapers in the diaper bag. Keep in mind that infants need to be changed more often that older babies. Fill a travel baby wipe container (available at any department or dollar store) with wipes and set it in the diaper bag next to the diapers. Finish with a tube of diaper cream.
Add enough food to cover your baby's feeding schedule while you are at work. You should have either formula or breast milk and bottles to put it in. Some day cares suggest that you pack an extra bottle or two in case you get stuck in traffic or have an emergency that prevents you from picking up your baby on time. If your baby is old enough for cereal or baby jar food, pack that too, along with any utensils needed to eat it.
Pack extra clothing in your diaper bag next. At least two weather-appropriate outfits are recommended, as well as a few extra bibs, socks and onesies. Include a plastic bag for any wet or soiled clothing that needs to be washed when you get home.
Place any items of comfort in the diaper bag next. This may include such objects as a binky, a favorite stuffed animal or a blanket that your child refuses to put down.
Tuck any instructions for the day care workers, such as your preferred feeding and napping schedule, in the side pocket of the diaper bag. This sheet of paper should also have a list of important phone numbers the day care workers might need listed on it. Your cell number, work telephone number, your pediatrician's number and a number for your emergency contact are must-haves.
Things You Will Need
Diapers
Travel baby wipe container
Wipes
Bottles of formula or breast milk
Baby cereal or food
Eating utensils
Clothing
Plastic bag
Instruction sheet
Tip
If your baby becomes sick at any time, you'll need to pack any prescription medications and a note from your child's pediatrician as to how the medication is to be dispensed in the diaper bag.