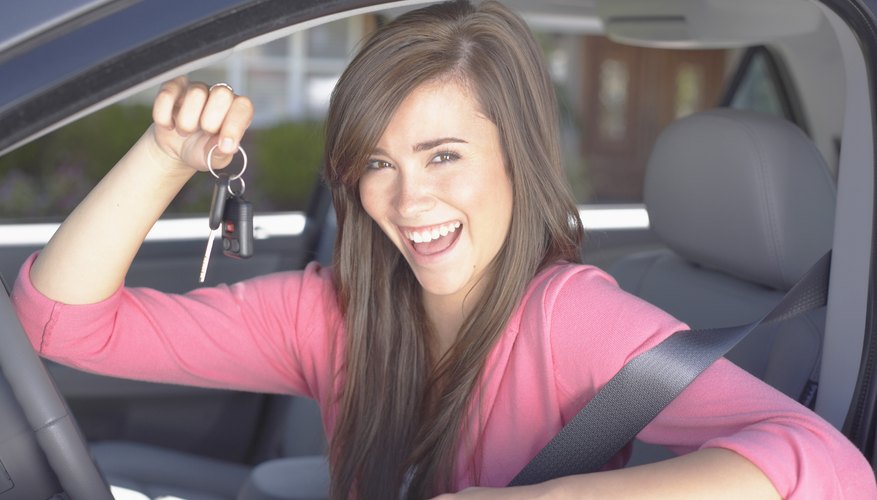 When it comes to choosing a car for a teenager to drive, most parents are concerned about safety, while their teens are concerned about looking good. Luckily, some cars meet in the middle. The most important factors that teens and parents should consider are cost, safety features and durability, because this car should be in it for the long haul.
Safety
Teen girls are still learning to drive, so safety is an important concern. If she does get in an accident, you want to know that the safety features will protect her. Cars more than five years old are often too dated to have the best safety features, according to an article in "USA Today," so you may want to find a newer car for your teen and drive the "beater" yourself. Safety features to look for are side airbags, which protect best in single crashes, front collision warning signals, and electronic stability control.
Big, Slow, Ugly
Psychology has a lot to do with whether your teen girl will be tempted into reckless driving, says John Ulczycki, a father of six who was quoted in the "USA Today" article. Though teens will want to drive sporty, new cars, they will be tempted to drive them too fast. Ulczycki let his kids drive BSU's: big, slow, ugly cars, like their grandmother's old Cadillac. They didn't want to drive it too much, or too fast, said Ulczycki, so they weren't behaving recklessly. Though your teen might push for the latest models, it could be worth compromising on an old minivan or Cadillac until she proves she can drive safely.
Used Cars
When cost is an issue, a used car can be an attractive option for teen drivers, especially if she's buying it herself or paying for most of it. Top picks for used cars for teen drivers from a 2013 issue of "Consumer Reports" include the Chevrolet Malibu, Hyundai Sonata, the Mazda6, the Ford Focus sedan and the Volkswagen Jetta. Low horsepower combined with solid safety features and a strong mileage make all of these good choices for used cars.
Insurance Costs
Young drivers can often rack up quite a car insurance bill even if they've never been in an accident, according to an NBC News article. Because teens are at a higher risk for accidents than adult drivers, their premiums start out high. The type of car can also lower or raise insurance premiums. NBC made a list of the 14 best cars for teens based partly on insurance costs, with the lowest insurance -- based on an 18-year-old male with a clean driving record living in Pensacola, Florida -- for a Ford Taurus at around $3,000 a year and the highest for a Mitsubishi Lancer GS at around $4,000 per year.