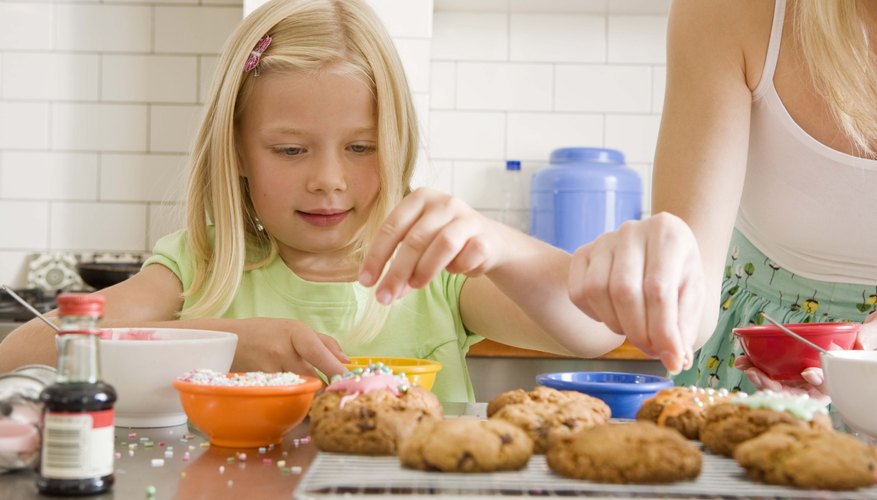 The next time your toddler is asking for a sweet snack, offer to make banana oatmeal cookies together. She will enjoy helping Mommy pour and mix ingredients, and you will feel better about offering a healthier snack made with natural ingredients than some flavorless processed concoction from the supermarket shelf. If you are short on time, the banana oatmeal cookie dough can be spread into a baking dish to make cookie bars instead.
Making Dough
Banana oatmeal cookies are one-bowl wonders that allow you to dump all of your ingredients into the mixing bowl at one time and simply blend them together. Mashed banana, old-fashioned rolled oats, vanilla, ground cinnamon and applesauce form the base of these cookies. Once the batter is moist, you can drop the batter by the spoonful onto a cookie sheet and bake them. The cookies do not spread out while baking, so you can keep the dough in a ball shape, or squish it down into a flatter circle before sticking the pan into the oven.
Add-Ins
With a little creativity you can add your own personal flair to a basic banana oatmeal cookie recipe by adding unexpected flavors or colors. Plain or golden raisins, dried cranberries and chopped dried cherries add a tart, chewy taste. According to HealthyKids.org, a website associated with the American Academy of Pediatrics, the goal is to cut food into bite-size pieces for toddlers and preschoolers that are no larger than 1/2 inch to prevent choking. Dark chocolate chips, peanut butter and colored sprinkles are other kid-friendly add-ins for the cookie dough. Choose one favorite, or mix in several for a tasty surprise.
Including Kids
Kids can help with many of the steps in making these healthy cookies. Teach your child the art of smashing up ripe bananas with the back of a fork and how to measure ingredients with measuring spoons and cups. Toddlers enjoy pouring pre-measured ingredients into the mixing bowl and helping Mom stir everything together. Your child may also be entertained by scooping up spoonfuls of cookie dough and plopping them onto the baking sheet.
Nutritional Information
The nutritional facts for the banana oatmeal cookie dough depends on the specific items that you include in your batter, for example, using unsweetened applesauce versus sweetened or adding raisins instead of chocolate. However, banana oatmeal cookies give you an opportunity to sneak healthful ingredients into a treat your children will love.