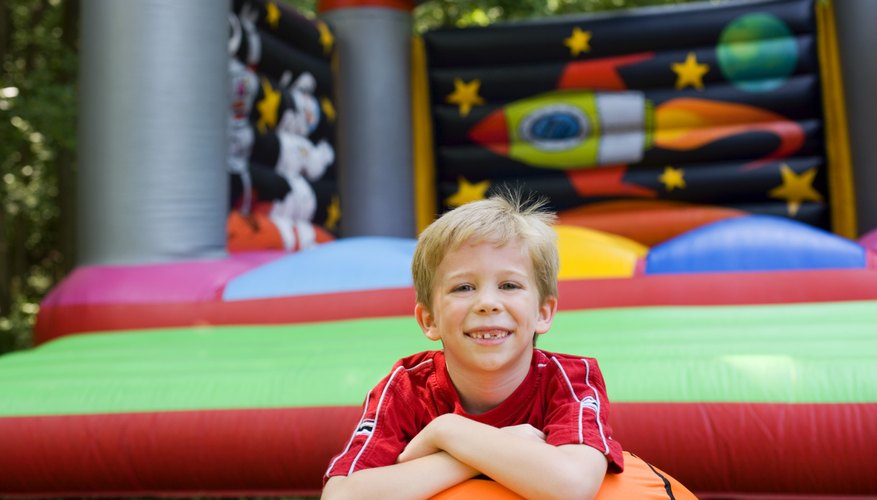 If your kids want to have a bouncing good time, holding your next party at an arena with gigantic inflatables is the way to go. Cincinnati, Ohio is part of a thriving metropolis comprised of three states: Ohio, Kentucky and Indiana. The area offers a wide variety of activities and party venues, but if it's jumping and bouncing that your kids want, you can choose from several inflatable party places in the Cincinnati metropolitan area.
Pump It Up
Pump It Up in West Chester, about 20 miles from Cincinnati, has two huge rooms filled with inflatable play equipment, including bounce houses, slides, obstacles courses and an inflatable rock wall. Birthday parties are available for up to 25 guests -- and packages include open play time, access to a private party room, party supplies like cups and plates, and invitations. Pizza and refreshments are available for an additional charge. You can also have a Go Glow party where the lights are turned down and fun is turned up, as the equipment all glows in the dark.
Jump & Jack's
Jump & Jack's, which caters to children of all ages, is also located in West Chester. In addition to the giant bounce houses and interactive play structures, there are also toddler-friendly zones so that the little ones won't get hurt playing with the big kids. Inflatable equipment includes a multilevel maze, slide and a bouncing play yard. Party packages provide access to all the equipment with unlimited play time and unlimited time in the private party room.
Jump!Zone
Jump!Zone is located in Milford, about 15 minutes from Cincinnati. It features a large indoor playground with themed inflatable equipment, such as areas with dinosaurs, the Kracken -- a sunken ship taken over by a huge octopus -- or a fire truck. Equipment includes bounce areas, slides, two obstacle courses and a maze. Party packages are available with open play time and pizza. Amenities for parents include a lounge area and free Wi-Fi.
Run Jump-n-Play
Run Jump-n-Play is located in Mason, about 30 minutes from Cincinnati. The center includes large inflatable play structures, as well as other opportunities for fun, such as an indoor playground, bowling, and mini golf. With the combination of activities, there will be something for all party goers to love. Themed birthday parties -- such as princesses, pirates and cosmic glow -- are available, or you can create your own. Play is limited to certain inflatable areas and you have access to a private party room.
Big Bad Bounce
Big Bad Bounce is located in the Scene75 Entertainment Center in Dayton, just under an hour from Cincinnati. It has a 20,000-square-foot bouncing area, featuring a 36-foot slide, wrecking ball, as well as three obstacle courses. There's also a 1,200-square-foot area called Toddler Town with inflatable units and interactive games for children under 42-inches-tall. There are two party rooms -- and party packages are available that include pizza, drinks and arcade cards.