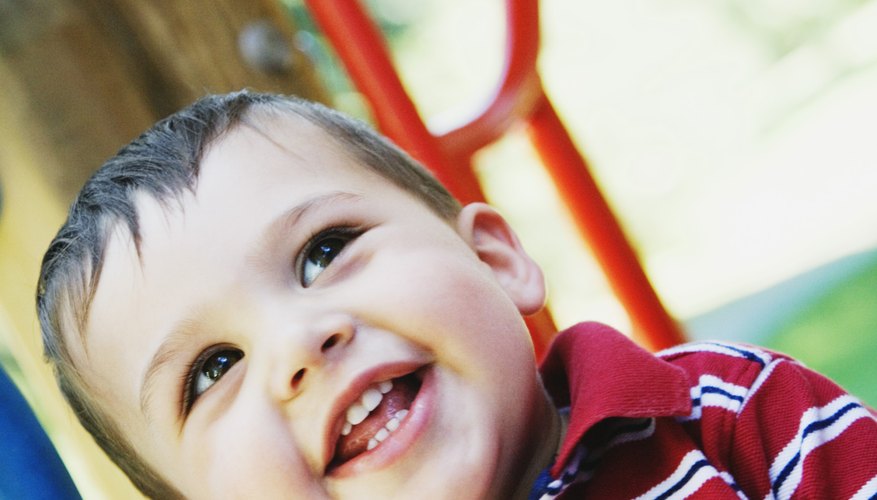 If you're the parent of a little one, you know how important it can be to have somewhere to take your children for some play time. When you've been cooped up inside your home for too long with your infant or toddler, it can be refreshing to have a change of scenery and maybe even some adult conversation. In Wichita, nestled along the Arkansas River in Kansas, parents will find a variety of play places and programs for their small children.
Outdoor Play
The City of Wichita Parks and Recreation Department maintains 123 parks, covering more than 4,400 acres. You can choose a nice day to take your infant or toddler out to one of these area parks for some play time. O.J. Watson Park features five children's playgrounds, two of which have a sand safety play surface and one that has a rubber safety surface, all ideal for little ones. You'll also find a miniature train ride and pony rides. At Swanson Park, you can take your little one for a walk on the nature trail to view some wildlife. Botanica Wichita has the Downing Children's Garden, where your little one can toddle around in the monster woods, listen to stories and watch a puppet show. Alternatively, you could take your infant or toddler to one of the Greater Wichita YMCA waterparks. Northwest YMCA waterpark features a wave pool, toddler bay and spray grounds, and the Andover YMCA waterpark has a large play structure, splash pad and a toddler bay.
Rainy Day Play
Parents who are looking for somewhere to take their baby or toddler on a hot or rainy day can visit one of the indoor play places in Wichita, such as Pump It Up. At Pump It Up, you can drop by during Pop-In Playtime to participate in a play group that is only for kids under 6. Your little one can run and play on the huge interactive inflatables and slide, climb and bounce the day away. At Wichita Ice Center, you can take your toddler for the Parent and Tot Learn to Skate program. Little ones learn the basic skills needed to get going on the ice. Wichita Gymnastics has a Kid's Day Out program for children 2 1/2 and up, with activities such as swimming, games and an obstacle course.
Educational Play
Your little ones can have fun and learn something at the same time at Exploration Place. You can explore exhibits like AgMagination, Where Kids Rule and Tots' Spot. Or, you can sign your kiddos up for one of the programs, including the children's Spanish program, for kids 1 to 9, or Gingerbread Village, with holiday activities for the entire family. At the Sedgwick County Zoo, you and your infant or toddler can meet and learn about some of the animals that live there, such as the elephants in the Asia exhibit or penguins in the Cessna Penguin Cove. There are also some fantastic programs for young children, as well. The Wee Wigglers program is for children 12 to 23 months and includes first-hand animal experiences. Owlet is for children 2 to 3 years old and gives little ones an up-close glimpse of wildlife. At the Pajama Party, kids newborn to kindergarten-age can enjoy an evening program in their jammies.
YMCA Activities
The Greater Wichita YMCA branches offer a broad range of play time activities for young children. At the Fall Festival at Camp Hyde, your entire family can enjoy games with prizes, hayrides and s'mores. The Andover YMCA, West YMCA and Richard A. DeVore South YMCA each offer a Hop Skip Jump Dance program for toddlers, with playtime activities that enhance motor skills and body awareness. Each branch offers a Just 2s Gymnastics class that teaches toddlers how to work with other children, as well as some basic gymnastics skills. Your infant or toddler can also participate in the Waterbabies class, for children ages 6 months to 2 years. This class is held at the El Dorado YMCA and North YMCA; it teaches water safety along with swimming readiness through games and songs. Children 2 and up can also attend Mom's Day Out at East YMCA, Andover YMCA and the Richard A. DeVore South YMCA, with swimming, gym games and arts and crafts.