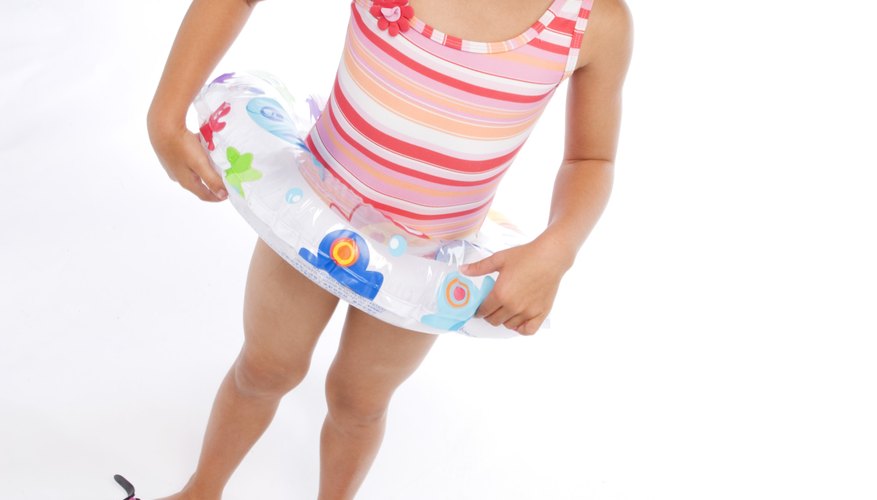 In central Iowa, residents and visitors to the area will find a variety of indoor swimming pools and water parks to visit with their kids. This can be a lifesaver on those days when the kids want to play in the water but the weather doesn't cooperate, specifically during the long, cold and snowy winter months for which Iowa is known.
Resort Indoor Water Parks
If you book a stay at Ramada Tropics Resort and Conference Center in Des Moines, your kids can swim and play to their hearts' content inside the resort's 18,000-square-foot indoor water park. You'll get to enjoy three large pools, a huge hot tub, a pirate ship with interactive play features and a variety of slides. In Williamsburg, your family can enjoy water activities at the Clarion Inn Amana Colonies and Wasserbahn Waterpark Resort. Inside the 11,000-square-foot indoor waterpark, your kids can get soaked by the dumping bucket, play in the wading pool, zip down the fast slides and climb and play on the interactive play structure.
Hotel Indoor Pools
Days Inn and Suites in Cedar Rapids features a large indoor heated swimming pool that your family can enjoy together any time of the year. If your family is looking for a place to stay and swim in the Des Moines area, you can check out the Embassy Suites Hotel Des Moines Downtown. This hotel has a huge saline indoor swimming pool, as well as a nice, hot whirlpool for guests to relax in and enjoy.
City Indoor Pools
In Cedar Rapids, you and your kids can go for a swim at the Bender Pool, maintained by the City of Cedar Rapids Recreation Department. The indoor pool is open year-round and features a water basketball area, a slide and handicap access. Kids can also go to special youth swim programs and participate in swimming lessons. The City of Urbandale maintains the Urbandale Public Swimming Pool. This indoor pool offers public swim times throughout the year, as well as special programs like swim lessons and theme nights, with themes like Superhero Night and Luau Night.
YMCA Indoor Pools
If you're in Ankeny, you and your kids can go for a swim at the Ankeny Family YMCA branch of the YMCA of Greater Des Moines. Swim lessons are offered in the spring and summer, and kids can also participate in the Y Swim Team. Other Des Moines branches that offer indoor swimming include the John R. Grubb Community YMCA, Walnut Creek Family YMCA and the Boone County Family YMCA. In Cedar Rapids, your family can enjoy swimming indoors at the Helen G. Nassif branch of the YMCA of the Cedar Rapids Metropolitan Area. This YMCA location features a six-lane heated indoor pool and offers swim lessons and a competitive swim team for kids.