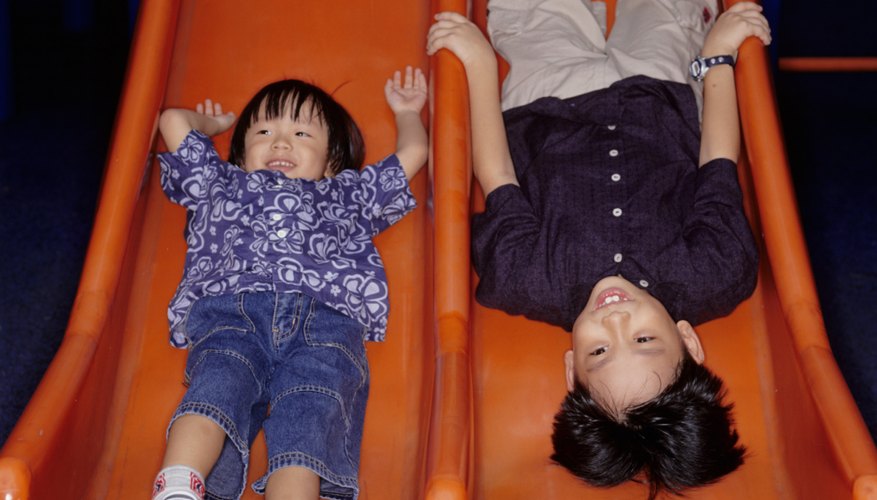 During the cold winters or a rainy day in Akron, Ohio, kids can still have fun at an indoor playground. Take the kids out for a meal or snack to use a playground at a restaurant. Chapel Hill Mall is home to an indoor playground with large inflatable rides.
Inflatable Insanity
Inflatable Insanity is at Chapel Hill Mall and offers a large inflatable indoor playground. Enjoy a variety of inflatables such as slides and bounce houses. An arcade and teddy bear stuffing system are other activities that are sure to keep your kids entertained. There is a special area for toddlers and an interactive sponge ball game for older children. Prices are offered by the hour or for a full day of play.
Chuck E. Cheese
The Akron location of Chuck E. Cheese has an indoor playground and other indoor activities for your kids to enjoy on a rainy day. In addition to the playground, the venue also provides an arcade, entertainment, games and prizes. Admission to Chuck E. Cheese is free and games are 25 cents or less to play. A toddler play area is available for young children in your family. When your kids work up an appetite, the family fun center has pizza, sandwiches, salads, buffalo wings and beverages.
McDonald's
McDonald's has a variety of locations equipped with a PlayPlace, the company's indoor playground. McDonald's restaurants with indoor playgrounds in Akron are at 2362 Roming Road and 1810 Merriman Road. The playgrounds have tunnels, slides and ball pits for kids to play. Kids can choose from among different kids' meals for lunch while visiting the restaurant. The meals include menu items such as hamburgers, chicken nuggets, apple slices, french fries and milk.
Burger King
Take the kids out for lunch at Burger King and stay to play on the indoor playground at the restaurant. Not all locations have a playground, but an indoor play area is available at the Burger King at 1175 S. Arlington St. in Akron. Kids can climb, jump and burn off some energy while you sit down and relax. The playground is free to restaurant patrons.