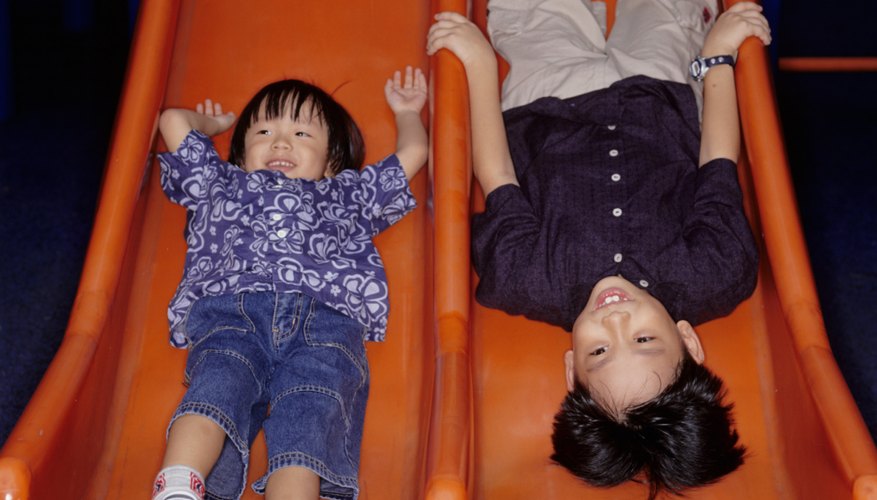 Phoenix, Arizona, is the sunniest major metropolis in the country with breathtaking views of mountain ranges and sunsets. Located in the middle of the Sonora Desert, Phoenix will have many hot days making it necessary to find indoor options for your kids. Several indoor playgrounds and parks can be found in the Valley of the Sun.
Educational Play Places
You can get the best of both worlds at a center that educates kids while they play. Imagination Avenue is a miniature town for kids ages 8 and under. With streets connecting the variety of playhouses, children can interact with each other in the bakery, hardware store, hospital, market, school house, dress-up boutique and firehouse. The Arizona Science Center is an option for the older kids, featuring hands-on exhibits such as a solar energy station, money center, a physics lesson through high-wire cycling and a forces of nature exhibit.
Bouncers and Playgrounds
The Play Factory has an indoor playground for kids 12 and under. It is a multi-level climbing structure with slides, tunnels, monkey bars, bounce houses and toddler toys. Parents get in free and can enjoy the Wi-Fi access. About 10 miles from downtown, in Tempe, you will find Pump It Up. There, your kids can bounce around during open play in a room full of inflatables. It also has structured play classes that your kids may enjoy. Fourteen miles down the road from Phoenix in Chandler is Makutu's Island. It has a 25-foot oak tree climbing structure with slides, mole-holes, fire-poles, tubes and tunnels.
Attractions for Older Kids
There are a few options that are well-suited for your older kids. K1 Speed is an indoor go-kart complex. With fast-paced racing and high-tech carts, your kids are sure to have a thrill. It has junior carts for kids over 4 feet tall and adult carts for those over 4 feet, 10 inches. The facility also has a lounge, food options and a spectating area. Flip Dunks is a trampoline park featuring wall-to-wall trampolines, dodgeball arenas, trampoline basketball, bungee trampolines and gymnastics equipment. Kids can go to the open jump time or enroll in one of the many gymnastics, tumbling or trampoline classes offered.
Amusement Parks
Jambo! Indoor Amusement Park has something for everyone. It features kiddie rides, twirling swings, a jungle gym, miniature golf with a jungle theme, neon laser tag, mini bowling, inflatables, a large selection of video games and robotic safari animals. It has a snack bar with pizza, hot dogs, nachos, burgers and chicken wings. At Laser Quest, your kids can play laser tag games in a multi-level arena with fog machines, special-effects lighting and high-energy music. You can reserve the facility for private parties or participate in open games.