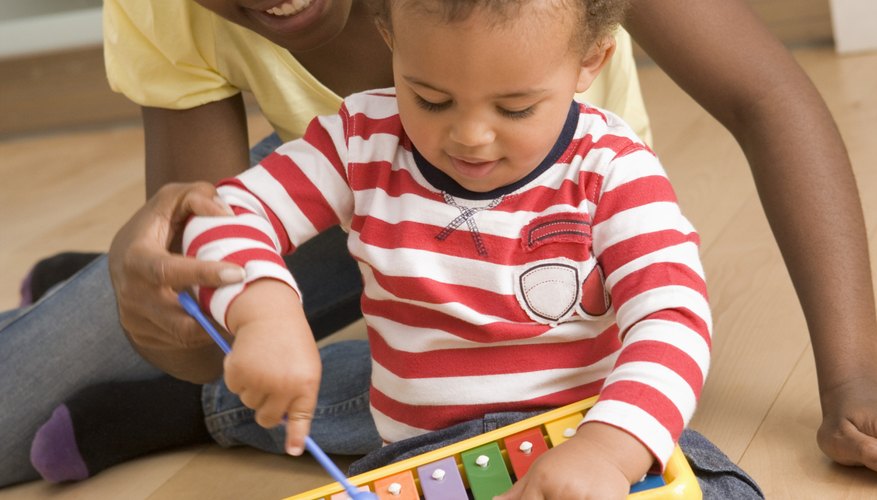 On those chilly, drizzly days when the park just isn't an option, don't feel like you have to stay cooped up with your little ones. If you live in Westchester County, New York, there are lots of indoor activities that can stimulate your infant's or toddler's senses. Choose from several play, music, dance or yoga classes, designed with your little one in mind.
Play
If your child has energy to burn, Gymboree is a great option. With locations in both Scarsdale and Yorktown, this play space offers classes for infants up to age 6-months-old that focus on exploring the senses -- and support visual and hearing development. These classes involve tummy time, flashlight play, and songs. There are also classes available for older infants where they learn cause and effect, and build strength through play with ramps, slides and climbers. Gymboree classes for toddlers involve working on balance and coordination, as well as problem solving, uncovering patterns and sequences, creative play and social interaction. At Jodi's Gym in Westchester, infants can take the Teeny Tumblers class where they can play, tumble and groove to the music. For tots, there's the Mighty Muscle Movers class, where toddlers can work on perfecting their jumping, climbing, swinging and stretching skills.
Music
At Groove in Larchmont and Dobbs Ferry, your infant can have a blast with mini shakers and drums in their Baby Rock class. For kids ages 6 months through preschool, there's Music for Aardvarks and Other Mammals, a unique class where kids sing about the things that fill their young lives -- wanting a puppy, the arrival of a baby, and visits to Grandma's house. Alternatively, you can take your infant or toddler to Over the Moon Music and More, which has locations in Scarsdale, Briarcliff, Chappaqua, Dobbs Ferry, Mount Kisco, Tarrytown, and Tuckahoe. Over the Moon Music and More is part of the national Music Together program and offers informal, non-performance oriented classes that involve rhymes, movement and instrument play. Some classes include kids of all ages, from newborns to school-age children, while there are other classes for specific age groups.
Dance
Check out the Shake, Rattle & Roll Baby meetups that occur at various locations around Westchester. They offer multicultural tunes and an energetic atmosphere where mommies, infants and toddlers can dance, sing and just have fun. For your toddler, there's Miss Patti's Feeling Groovy class at the Katohah Art Center, which encourages kids to explore all they can do with their bodies. Another option for toddlers is the Mommy and Me class at Magical Movements in Harrison, where tots explore costumes and props while developing their physical skills and imaginations.
Yoga
If you're looking for a more calming indoor activity, try a yoga class. Mommy and Me Yoga at Yoga Sanctuary in Mamaroneck is a class for moms and pre-crawling infants, where you can rebuild strength, flexibility and tone, as well as learn relaxation techniques to help you calmly interact with your baby. For your toddler, there's Budding Buddha's in Scarsdale, which teaches young yogis poses, games, songs and relaxation techniques that promote focus, self-esteem, balance and coordination.