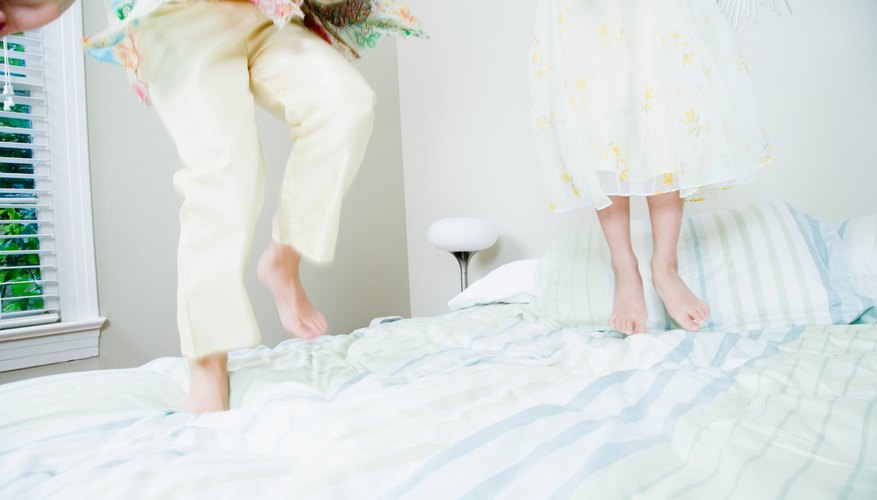 You're a mom, so you know just how important it is to have age-appropriate kids' activities available to keep your toddlers and preschoolers busy and happy, so they aren't sitting at home annoying each other and driving you bonkers. You'll find that there are many indoor activities to choose from in Daphne, Alabama to keep your little ones busy on a rainy day.
The Little Gym
Get your toddler or preschooler out of the house and over to The Little Gym (thelittlegym.com) for an engaging and exciting class. You can sign your toddler up for a Parent and Child Class where you and your little one will work together to increase his physical strength and muscle control, fine and gross motor skills, and work on coordination and balance. You'll be proud watching as your little man learns about colors, numbers, letters and sharing. Let your inner child out and get involved as much as you can while soaking up all those smiles and giggles. You can sign your preschooler up for three other classes, too: gymnastics, sports skills and dance. Maybe you could let him give each one a try to see which one he enjoys doing the most before you choose.
Daphne Library
Head over to the Daphne Library (daphnelibrary.org) any time you need a place to go on a dreary day. The library is a place where your little one can let his imagination run free, while enjoying stories with you and participating in exciting programs. Best of all, the library is absolutely free. You can snuggle up in a rocking chair with your little cuddle bug in the Easy Readers section of the Children's Department to share a fairy tale or two. There are also games, puzzles, a train table, dinosaurs and a puppet theater. Join Preschool Story Time on Wednesday afternoons or Thursday mornings for stories, songs, puppets and crafts. Your little guy will love making new friends at story time and you can enjoy visiting with the other moms while he does.
Kangarooz
Let your kiddo run free and blow off some steam at Kangarooz Family Fun Center (mykangarooz.com) while you take some time to catch your breath and get yourself reenergized. Kangarooz is just a 10-minute drive away in Spanish Fort. This indoor play facility has eight giant inflatables for your child to jump on. There is also a special toddler section just for little guys to keep them safe and allow them to have a good time, too. You can let your child have a blast without having to worry about the equipment being dirty because the inflatables are wiped down with sanitizer at least four to six times per day to keep them safe and clean. So, take off your shoes and don't worry about how silly you look. Go jump right along with your little guy and just enjoy all of his silly giggles. You'll be the coolest mom alive in his eyes.
Gulf Coast Exploreum Science Center
Just an 18-minute drive away, in Mobile, you'll find the Gulf Coast Exploreum Science Center (exploreum.com). This is the ideal place to take your little one for a day of indoor fun that he'll never forget and where it's okay for you to act like a kid again. The Exploreum has more than 150 hands-on science exhibits for you to explore together. Check out the Hands On Hall where you can catch your shadow in the light and optic gallery, race to the top of the pulley or experiment with electromagnets. In the Wharf of Wonder at the Early Childhood Area, for kids birth to five, you can scoop up sea creatures from the ball ocean and weigh them in at the fish market or take off on an adventure on the S.S. Crichton. There are enough activities to keep you both busy until it's time to head back home, and chances are he won't want to go home even then.