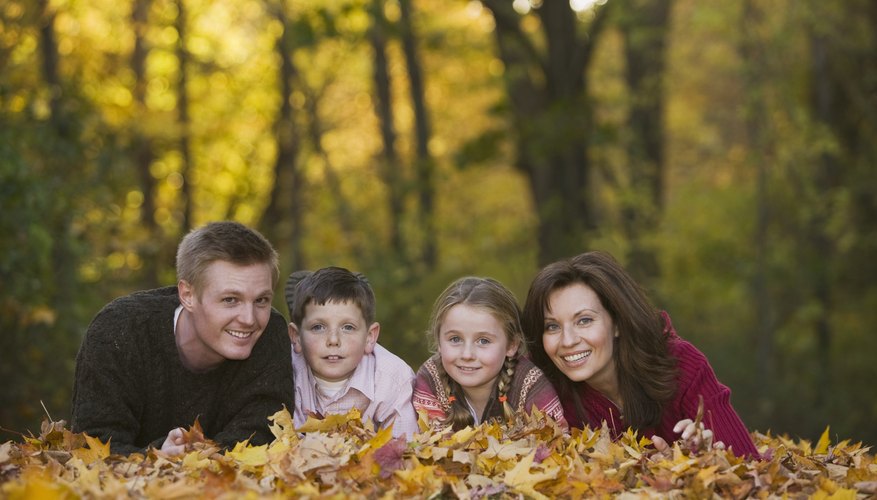 Family portraits can be quite expensive, but, if you're like most people, you want a visual reminder of various times in the life of your family. Before you shell out the big bucks for a professional portrait session, consider taking your own family portrait. With some preparation, a few props and a camera with a delay setting, you can take a portrait that's worthy of a prominent spot on your wall.
Fall Props
Use the stunning nature around you as props to create a fall theme in your family portrait. Pile up colorful fall leaves and use them as a backdrop for your portrait, or take a fun picture of your family sitting in the pile. You might take an action shot of the whole family jumping into the pile of leaves for a different kind of portrait. Head to a local park with trees and use that as your background. Arrange a pile of pumpkins to sit next to or take a kids-only shot with your children sitting on large pumpkins. If your family enjoys Halloween, consider taking a portrait of everyone in their costumes surrounded by piles of trick-or-treating props such as candy and plastic pumpkins.
Locations
Choose a fall-themed location to snap an attractive family portrait. Go to a local pumpkin patch and take a portrait among the pumpkin plants, or ask each family member to choose a pumpkin to hold in the photo. Head to a corn maze and take a family photo of everyone looking worried that they won't make it out, or have everyone hide among the cornstalks and peek out, which will create a memorable family activity in addition to being something different to capture. An apple-picking orchard or a costume party are other locations that might interest you.
Poses
Vary the poses of your family portraits to achieve a look that isn't as likely in a studio. Ask someone to take a picture from above and ask members of your family to lay on their backs in a pile of fall leaves. Include and remove family members for a different look. Take a picture of mom and daughter giggling over a basket of pumpkins or the kids throwing handfuls of leaves up into the air. Take a picture from behind of the family holding hands while walking through an apple orchard. By taking a variety of poses with different family members, you can create a photo montage on your wall rather than only hanging one portrait.
Additional Ideas
Capture the everyday moments in the life of your family instead of doing a posed portrait, suggests Christie Mumm, author of "Family Photography." Instead of asking everyone to smile at the camera, take a few photos of the family looking at each other or other items. Perhaps mom and dad could be smiling over the tops of their costumed children's heads or the kids could be examining their finished jack-o'-lanterns.