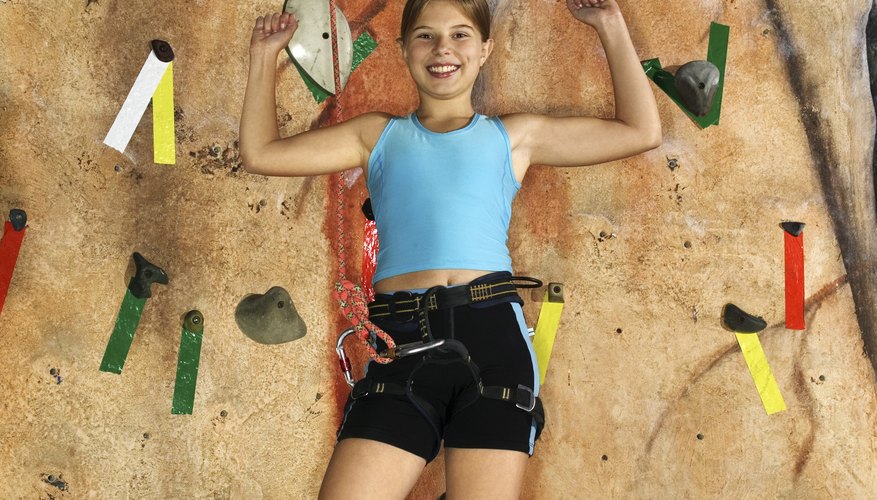 Davis, California has several unique options for kids' birthday parties. Explore these options to decide what kind of party you will throw for your child. You can entertain party guests indoors or out, with rock climbing, make your own pizzas or with a rented bouncy bounce.
Having a Party at Playland
Playland tries to offer parents and children everything they could want in a birthday party. Playland is located in Dixon, a short 13-minute ride from the center of Davis, and has several themed play areas for children to enjoy. The play environments were design to inspire creativity, social bonds and physical development. Adults attending the party don't have to feel bored thanks to the espresso bar and wi-fi access for mobile devices Playland provides.
Kids who prefer bigger challenges might prefer Rocknasium located on Olive Drive in Davis. This gym has a rock climbing program designed for children. The facility provides all of the needed equipment plus experienced supervisors to make sure kids stay safe.
Cooking Activities for Birthdays
When you have a party with Cooking Capers, the kids get to make their own pizzas, cookies, mini cakes, and other foods. It's a fun experience that gives kids ages 4 to 12 a chance to learn new skills in the kitchen. The chefs from Cooking Capers will come to your Davis, California home or a local venue of your choosing and use the available kitchen and ovens to create their culinary masterpieces with the party guests.
Outdoor Activities for Kids' Birthdays
Outdoor activities give kids a way to burn some energy so they're worn out by the end of the day.
Pine Trails Ranch has birthday events for kids of all ages. Younger children enjoy the pony ride birthday party package, where an instructor will lead the pony while the child rides. Older children enjoy the group lesson party, where all party guests learn to care for a horse or pony, experience a horse safety mini-lesson, and then ride in the Pine Trails arena. If party guests master basic horse riding skills, the instructor may also allow the party to take a short trail ride outside of the arena.
If you prefer to keep cool during your outdoor birthday parties, you may enjoy holding your event at The Rec Pool. The Rec Pool located at the northwest corner of Hutchison Drive and La Rue Road is one of the largest free-form swimming pools west of the Mississippi. The Rec Pool offers a lodge which is available to reserve for events, such as your child's next birthday party. Swimming keeps everyone cool under the safe watch of a lifeguard.
Planning a Party in Davis
If you choose to plan your own party, then you can make the event more fun by hiring face painters and a musician. Music Matt plays all types of events, including birthdays. He focuses on playing fun songs that expose children to music genres they might not have heard before. It's educational, but it's also a sing-a-long favorite for many locals. Music Matt will visit your home or venue in Davis, California to entertain your party guests.
Fantastic Face Painting is available for birthdays and other events in the Davis, California area. Painted faces allow kids to pretend to be animals, cartoons or other characters.
When ordering cake and ice cream for the party, consider options like Let Them Eat Cake. Let Them Eat Cake offers cupcake towers and tiered cakes that you can pick up from 310 C Street in Davis. They will also prepare a "Party-to-go" package for your birthday party that will give you cupcakes and decorations for children to make their own cupcakes at the party.
You can also rent bounce houses and other games from Bouncin Brian if you need to add some physical activity and excitement for your guests. Bouncin Brian will deliver the bounce house and other activities you order right to your party location.