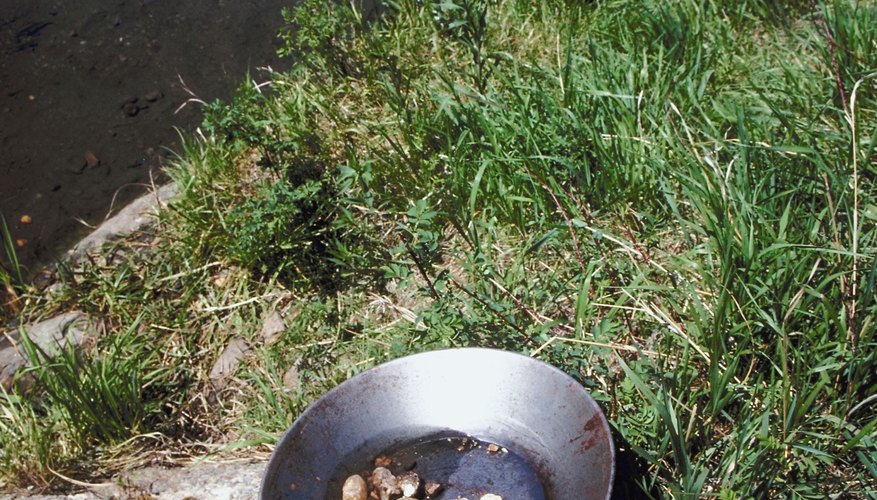 The North Georgia Mountains have long been a destination for those seeking the glitter and riches of gold. Three hundred years after the explorer Hernando de Soto passed through the area, historical records mark the first official gold strike in Georgia. In fact, more gold was mined in northern Georgia than during the California Gold Rush. Kids today can follow in the footsteps of the thousands of miners who once searched for gold along the rivers and streams of northern Georgia.
Loud Mine
The Loud Mine is near the eastern end of the Dahlonega Gold Belt, in White County, Georgia. Camping is available for more than 250 people, featuring sites with water and electric hook-ups and a full-time caretaker. Kids can enjoy hand-panning, sluicing with lightweight aluminum or steel boxes, and high-banking for gold along Town Creek and its tributaries. Rock hounds tend to find coarse gold at the Loud Mine, which indicates that it is relatively close to its source.
Gold N' Gem Grubbin'
Spend a day searching for gold at North Georgia's only commercial gold mine, Gold N' Gem Grubbin'. Children can pan for gold and gems in sluices that are strategically placed under shade trees for those hot deep-South days. Gold N' Gem Grubbin' even removes most of the dirt from the buckets so each one contains gold. Employees are available to give panning lessons, identify stones and point out gems worthy of cutting. Camping is available along the river or at RV sites with hook-ups.
Consolidated Gold Mines
Consolidated Gold Mines in Dahlonega gives families the opportunity to descend 200 feet into an underground mine. Tour guides tell tales about the miners of days gone by, and the tour is followed by a panning lesson and the opportunity to pan on your own. Kids can also try their hand at mining for gems such as emeralds, rubies and garnets in the water-powered flumes. Group tours are available.
Crisson Gold Mine
Crisson Gold Mine is the oldest gold mining company in Georgia. Visitors have the opportunity to see antique gold mining machines like the stamp mill, rod mill and jaw crusher when they tour the open pit mine. The mine sells ore by the bucket, and families can choose to pan for gold on site or take it home to search for nuggets on their own time. Higher-grade buckets of concentrated ore are also available for finding the most gold with the least effort. For kids who are more interested in searching for gems, Crisson Gold Mine hauls in loads of dirt from Franklin, North Carolina, which has a reputation for rubies and sapphires.