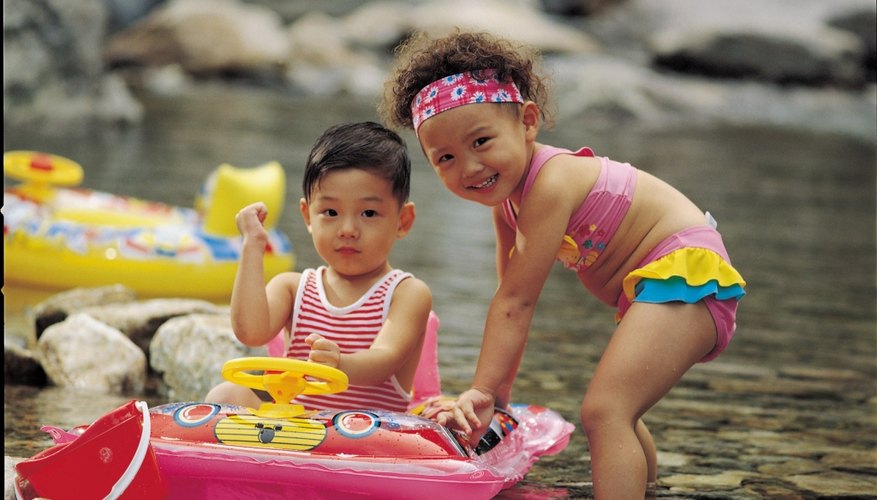 The city of Janesville, Wisconsin, is know as "Wisconsin's Park Place" and is situated in the south central part of the state. With an abundance of park space, outdoor beauty and interesting entertainment venues, you and the kids will find plenty of fun things to do among the rolling green hills of Janesville.
Historical Sites and Tours
Janesville is a town full of historical landmarks and tours that may interest the kids. The Lincoln-Tallmun House is a Italianate-style mansion where Abraham Lincoln stayed during his presidential campaign. The Francis Willard School is a 19th century one-room school house preserved for visitors to see. Kids will see just what it would have been like to go to school back then. The Wilson King Stone House was built in 1845 and is now home to the archival collections of the Rock County Historical Society. There is an annual historical house tour that features a walking tour of several historical sites, carriage rides and a welcome from an Abraham Lincoln look-alike.
Sporting Events
Janesville is home to the Rock Aqua Jays Water Ski Show Team. With shows and tournaments happening regularly throughout the summer months, you and the kids can enjoy the jumps, barefoot skiing, tricks, slalom racing and acrobatics featured at the event. The Janesville Jets are a part of the North American Hockey League providing a family-friendly place to come and watch a fast-paced, entertaining sporting event. The teams prides itself on inspiring children and youth to realize their full potential. The team is made up of 16 to 20 year olds training for college and possibly professional hockey play.
Outdoors and Nature
The city of Janesville has over 2,500 acres of park space with all kinds of amenities that would be excellent for kids. Palmer Park features a sand volleyball court, nature trails, sledding during the winter, a playground and softball fields. Rockport Park is 246 acres of cross country trails, green space, the Peace Park Playground, soccer fields and an historic farmstead. The Rotary Botanical Gardens may be of interest to you and the kids with 20 acres of formally designed gardens. It offers special programs for families such as Family Fun Days and Super Kids, a health awareness program.
Sports Activities
CSA Kids is a gymnastics and swimming facility for kids aimed to develop good fitness habits in kids. For some fun unstructured play time, you and the kids can drop by during open gym and swim. The Janesville Ice Arena is an indoor arena providing year-round open skating, skating lessons and hockey programs. The Rockport Pool is an outdoor facility ideal for those hot days in the summer. Palmer and Riverside Parks both have wading pools great for splashing around or engaging in a water war with the kids.