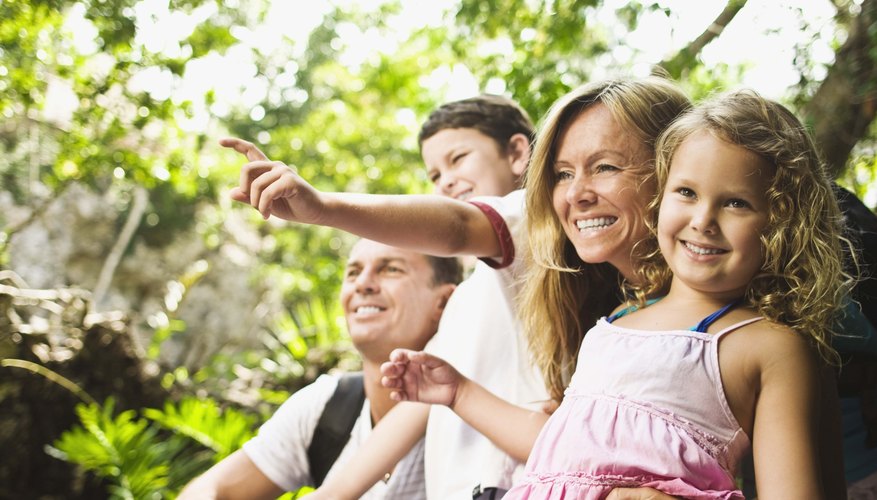 Resting on Wilson Bay, Jacksonville, North Carolina, is within minutes of the Crystal Coast. Recreational activities abound in this Southern city, making it an entertaining place for kids and adults. Whether you and the kids are outdoor enthusiasts or would enjoy a night out on the town, you will find it in Jacksonville.
Game Centers
Swingin' Things has a lighted 18-hole miniature golf course with fountains and obstacles. The facility also has a nine-hole traditional golf course ideal for kids who are just learning the sport. Swingin' Things also has batting cages. For the bowlers, Bowlarena Lanes has remodeled lanes, billiard tables, an arcade and a snack bar full of favorite bowling alley food.
Parks and Rec Centers
The city maintains 23 parks and community centers. The Wilson Bay Park is next to the bay, providing visitors with waterfront activities such as canoeing, kayaking and fishing. The park has a playground, picnic shelters, a boardwalk and lots of open space. The Jacksonville Commons Complex and Park has an indoor gymnasium, outdoor basketball courts, volleyball courts, playgrounds and sports fields. LP Willingham Waterfront Park is along the waterfront and has grills and tables for picnicking, a baseball diamond, basketball courts and a playground.
Wildlife and Nature Fun
The Lynnwood Park Zoo has more than 80 animal exhibits, including pot-bellied pigs, Welsh mountain sheep, donkeys, pigmy goats, zebras, alligators, pythons, barn owls and geese. For some exciting hiking adventures for everyone, you can take advantage of the 17 miles of trails that weave throughout the city. Richard Ray Park has a nature trail that winds through some beautiful scenery. Another park with a natural setting is Sherwood Forest Park, which has thick forests ideal for some wildlife exploring.
Shows and Cruises
The Marine Cafe is a waterfront family restaurant serving a variety of meals you can enjoy while viewing the bay. It also offers sunset cruises and other types of trips out on the water. If you and the kids are into the performing arts, the Legacy Theater Company has live dramatic performances. Whether it is comedy, dramas or musicals, you'll find it here.