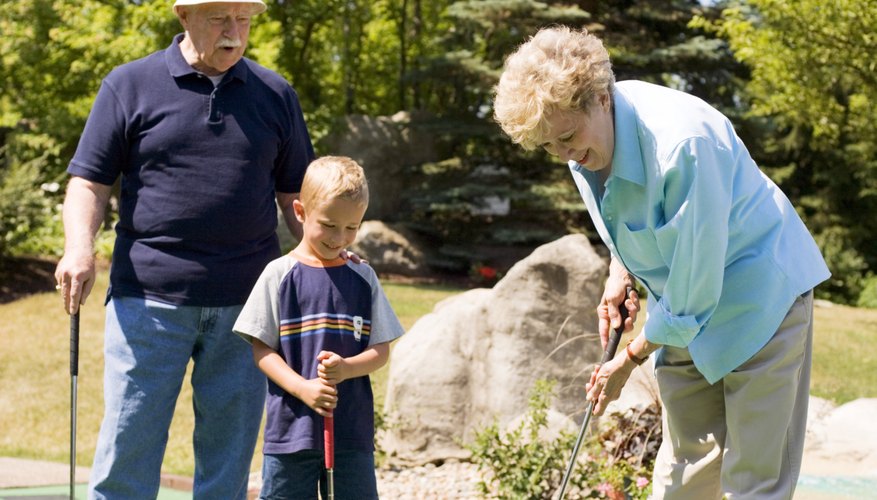 Woodbridge Township, located in northern Middlesex County, New Jersey comprises 10 small towns: Avenel, Colonia, Fords, Hopelawn, Iselin, Keasbey, Menlo Park Terrace, Port Reading, Sewaren and Woodbridge proper. Woodbridge offers numerous family-friendly activities to keep your kids busy and happy. However, the Jersey shore and New York City are both just a 40-drive away if you're looking for even more in the way of family entertainment.
Indoor Play
If you have kids 10 and younger, check out Kidz Village, a multilevel indoor playground. In addition to a climbing structure with slides, bridges and tunnels, there are 12 themed play rooms based on different imaginary worlds, including a castle for fairytale lovers, a tool shop for tool-wielding fun, an arcade game room and Guppies Toddler Town for the little ones. If you need to do some shopping, take the kids with you to the Woodbridge Center. This family-friendly mall has Tiny Town, a children's play area that includes a carousel. You can also take the kids to the Woodbridge Community Center, which offers both ice skating and roller skating, so your family can lace up and have some fun.
Indoor Sports
The Club at Woodbridge is a health and fitness center, which in addition to its programs for adults, offers Kidsports, a fitness facility for kids ages 5 to 12 that provides professionally designed 10-week programs. Weesports classes are also available at the facility for little ones ages 4 and younger. The Club at Woodbridge includes an indoor salt-water swimming pool as well as turf and obstacle courses. The Woodbridge YMCA features a 25-yard swimming pool, basketball court, indoor track, exercise classes and summer day camps. If the whole family is feeling competitive, visit the Woodbridge Bowling Center to bowl a few games. If you live in the area, consider signing your kids up for the junior bowling league.
The Arts
You might also want to take the kids to see a show by the Woodbridge Community Youth Players. Past productions include "Grease," "Footloose" and "You're a Good Man, Charlie Brown." Kids must be old enough to sit quietly in their seats and enjoy the show. All patrons must have their own tickets; younger kids aren't permitted to sit on laps. Pages of History, another local theater group, puts on shows for children in both theaters and local schools. Past productions include "Mighty Marvel Milkdud Avengers," "First Mothers: The Women Who Raised America's Presidents" and "Orphan Train." The group also offers playwriting courses for kids ages 9 to 12 and a separate introduction to playwriting for teens. If your children prefer paintbrushes to the stage, the Barron Arts Center offers drawing and painting classes for kids. The programs are usually held on Saturday mornings, and all ability levels are welcome. The Center also offers poetry readings and art exhibits.
Parks and Recreation
If your kids are into sports, the Woodbridge Township Recreation Department offers various activities and programs. There are tennis lessons for ages 6 through 17 with a student-to-teacher ratio of 4 to 1. There are also basketball, baseball, soccer, wrestling, football, street hockey and cheerleading teams. Or, you might just want to take the kids to William Warren Park in Woodbridge, which has tennis courts, basketball courts and softball fields with lights for games that go late into the night -- all on 126 acres. The park also has two playgrounds, soccer fields, bike paths and walkways and a mini-theater.