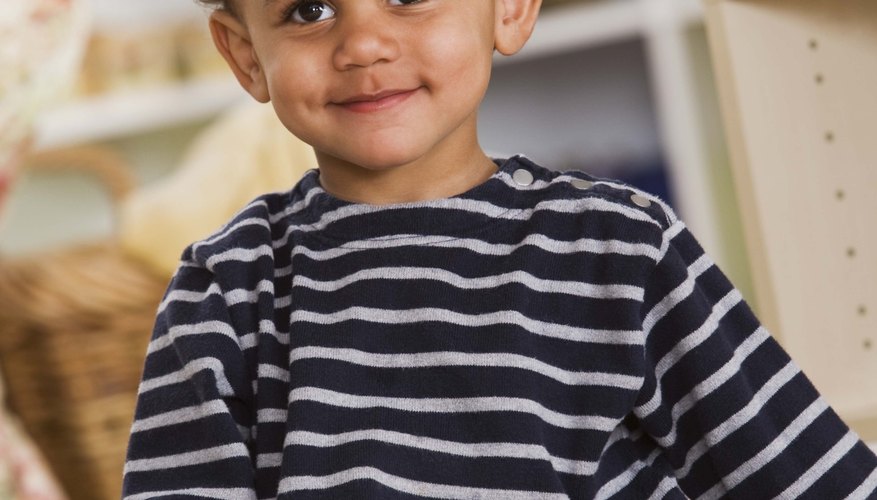 While play may seem more like a leisurely pastime than an educational endeavor, toddlers, according to the American Academy of Pediatrics' Healthy Children website, can learn and grow through these types of activities. Your curious toddler can explore her environment, build physical skills, stretch her imagination and even develop social abilities all through play. Encourage your little learner to play to her heart's content, or at least as long as you'll let her, in a specially-made playroom. Instead of just stashing toys throughout the house, keep the clutter in one space and designate one room for your tot's play-times.
Choose an appropriate playroom space. The AAP suggests selecting a play space that is safe and easy to supervise your toddler in. Pick a room that is free from physical hazards, such as easy access to open or running water, an un-gated fireplace or staircase, unsecured bookcases or obstacles that your child could potentially hide behind. For example, if your living room has columns that could obstruct the view that you have of your child, go with a different room. Consider the flooring when it comes to cleanliness and safety issues. Hardwood floors are often difficult to clean and may pose a slippery surface that your child could fall on. Opting for a carpeted area will provide extra padding, but may stain when your tyke drops her juice or markers on it. Find a middle ground -- such as accepting that you can vacuum or steam clean your carpet -- that works for your needs.
Move any necessary furniture. Remember that this is a "play" room, and not your living space. There's no need for ornate marble end tables or fancy cabinetry. Arrange the room as a preschool or childcare center would. This will help you to maximize the learning potential for your toddler and make her playthings easily accessible. Choose low, sturdy shelving units that your toddler can pick her toys and books from. Add in comfy spaces, such as an area with a pint-sized easy chair, for your little one to lounge in. Pick a child-sized table and a few chairs for her to sit in while doing projects. You will also want to have extra storage, such as a toy bin, to keep her things in.
Select toys for your child to play with. The key word in playroom is "play." Pick out age-appropriate playthings that your child can use while she spends time in her special room. The early education experts at the national child development organization Zero to Three suggest going with toys that your toddler can use in more than one way. For example, pick open-ended playthings such as blocks that your toddler can stack to make a building, line up to make her own train or use as pretend loaves of bread in a dramatic scene. Choose other toys that encourage creativity, such as dress-up clothes, and problem-solving, such as simple puzzles. Don't forget about toys that encourage physical or large motor skills, such as a pretend push mower or a mini plastic basketball hoop.
Stock the shelves with bins of themed or content-specific toys. Include art materials such as paper and markers or science activity toys such as plastic animals and magnifying glasses.
Child-proof your playroom. Plug covers into all of the electrical outlets, cover the ends and edges of shelves and other furniture with bumpers and put child safety locks on any cabinets or doors that you don't want your tot to get into. Secure all of the furniture -- such as shelving units -- to the walls with anchors or child-proofing straps. Make sure that all cords -- both electric and those on blinds -- are wound up and out of your toddler's reach.
Things You Will Need
Low shelves
Toys
Books
Child-sized tables and chairs
Storage bins
Child-proofing items
Tip
Add your own library or reading corner into the playroom. While reading may not seem like play, it is a fun-filled activity for your toddler. Stock a low book shelf with picture and board books.
Keep the color scheme bright an friendly. Make the environment inviting for her to play in. Add a cute animal-themed wallpaper boarder or a wall stencil of her favorite character.
Warning
Always supervise your child at all times. Just because you create a child-proofed playroom doesn't mean that she can have full reign. The pediatric pros at the KidsHealth website note that the best way to keep your child safe is to closely supervise her.
Avoid any old or worn furniture. It may easily fall apart, injuring your child, or have peeling paint.