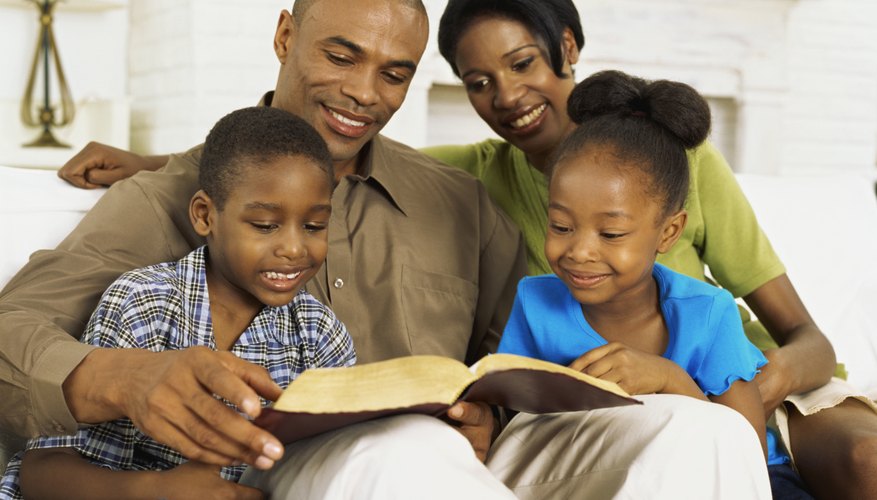 Devotionals take kids through a small portion of scripture so they can study the Bible a little bit at a time. In order to illustrate the point of the devotion you do daily, lead your child in a related activity afterward. Not only will the hands-on activity make the lesson fun, but it will also give your child a visual reminder of the lesson.
Obedience
Read your children the story of Jonah found in Jonah Chapters 1 through 4. Ask your children what happened when Jonah did not immediately obey God. The children should recount that Jonah was tossed overboard and swallowed by a giant fish. Then ask the children what happened when Jonah finally obeyed God. The answer should reflect that the people in the town of Ninevah repented of their sins and experienced salvation. To help the children remember the lesson, instruct them to paint a giant fish or whale on a sheet of construction paper. Next, the kids can draw a Jonah figure on a sheet of paper and glue it to the inside of the fish's belly.
Prayer
Get out your Bible and read your children the following passages: Jeremiah 29:13, James 5:13-16 and Matthew 26:41. Once the children see how important prayer is from a biblical perspective, ask them what they would do if their best friend moved away and they wanted to stay friends. The kids should respond that they would either write or call their friend. Remind the children that prayer is our way to stay in touch with God. If we didn't call our friends that lived far away, we wouldn't have much of a relationship with them. The same is true of our relationship with God. Place a piece of poster board in front of the children and ask them to draw all of the forms of communication that they are aware of. You might see a picture of a telephone, an envelope, a computer for emailing and Skyping, a cell phone and a set of walkie-talkies. Allow the kids to cut out these pictures from a magazine and glue them to the poster board, if they aren't confident in their drawing skills.
Stewardship
Children should be taught how to properly handle money from a young age. Start off by teaching them about stewardship, or tithing, by reading 2 Corinthians 9:1-15. Point out that our tithe is 10 percent of our income. That means if we get $10 in an allowance, we take $1 out and give it back to God. Remind the children that God loves a cheerful giver, so it is just as important to be excited about giving God back some of His money as it is to give the correct amount. Give your children some play money. Practice tithing with the play money by going through different scenarios where your children might realistically come upon some cash. For example, they may get paid to mow a lawn. They might also receive money as a birthday gift or from a weekly allowance.
Faith
Faith is one of the most important characteristics of a Christian. Children can learn more about faith through the study of a boy named David. Read your child 1 Samuel chapter 17. David defeats a giant by killing him with a slingshot and a stone. David didn't see his lack of experience as a problem in conquering Goliath because he had faith that God was bigger than any giant. Children can reenact the story of David and Goliath by dressing up like the characters and using a piece of paper scrunched together to form the shape of a ball. Older children might enjoy doing a word search puzzle on the Christian Broadcasting Network's online Superbook.