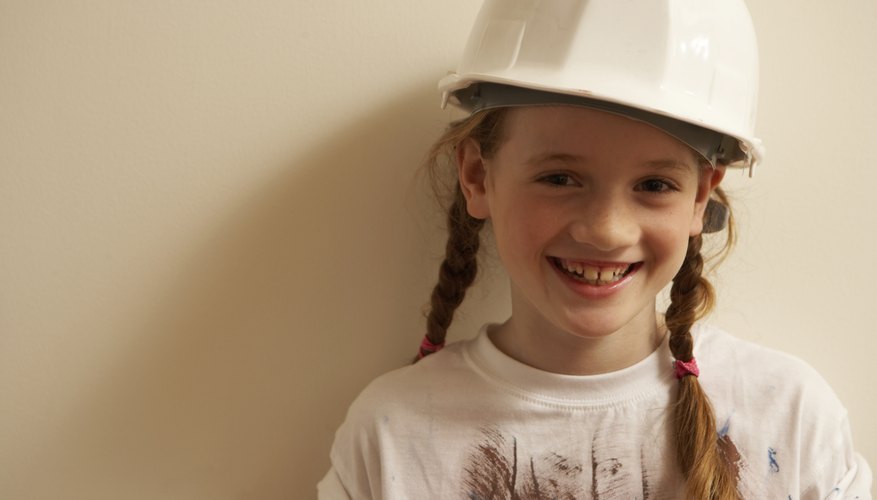 Take Your Child to Work Day can be an exciting experience for kids because they have an opportunity to get out of school and see what the grown-ups do all day. If you work in construction, whether you are a construction worker or an executive, extra precautions must be taken to ensure the children's safety around construction sites and equipment. Plan a variety of entertaining activities related to construction, too, to keep the children interested and excited to learn about the construction business.
Construction Company Tour
Have the kids take a tour of your construction company office. See whether you can arrange to have a top company official greet the kids and provide them with a background on the company and the type of construction work it does. You should also have the kids meet with a one person from different departments of the construction company, including engineers, architects, accountants and management executives to get an overview of how everyone works together to complete a project.
Construction Office Activities
Organize kid-friendly activities related to construction to keep your child engaged and interested. One idea is to have your child construct a building using only craft sticks and glue. Have a competition if there are a group of kids. You could also have parents and kids compete as teams. Another idea is to have a career scavenger hunt around the office, which requires the kids to ask employees questions. For example, the scavenger hunt list might include objects such as "find the engineer who manages apartment projects and has three dogs." Get approval for all activities beforehand and ask employees whether they are willing to participate.
Construction Equipment
Give your child and other kids hard hats and safety vests to check out construction equipment. Have an equipment operator give the kids an overview of how the different types of equipment works, such as a crane, a bulldozer, an excavator and a loader. If possible, and with the help of the equipment operator, allow the kids to sit in some of the equipment, allowing them to pretend to be a construction worker. It also is the perfect photo opportunity to commemorate the day.
Costruction Site Tour
Arrange to have the kids visit a working construction site. The site manager should know when the kids are coming so they can have any dangerous work halted briefly for the safety of the kids. You can also have the site manager conduct the tour, introducing the kids to some of the construction workers, who can explain what their job is. If it is too dangerous for children to be on the actual construction site, allow the kids to view it from a safe distance. You can also take the kids to see a recently completed project.