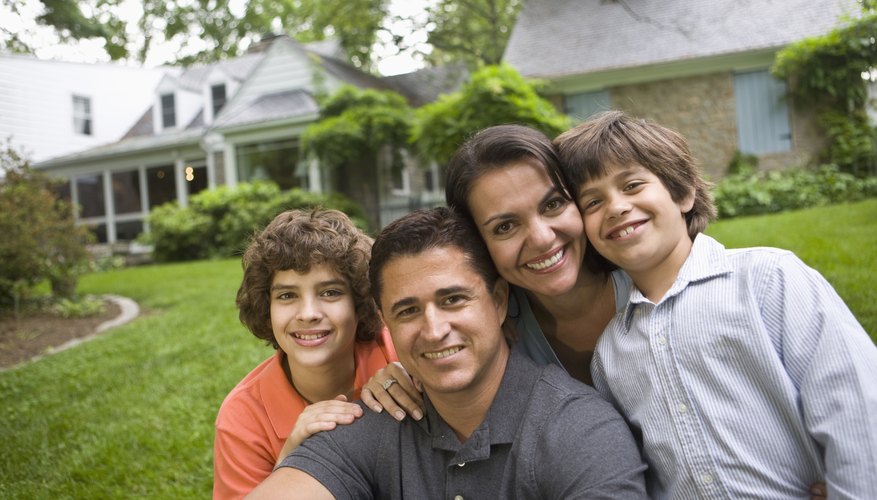 In a country where various cultures live side-by-side in neighborhoods across every city and town, child-rearing practices are bound to vary significantly. Still, a few recurring trends that transcend cultural differences exist among the majority of U.S. parents. Education, health care, family dynamics and concerns for child safety tend to bind together the many cultures present in the United States.
Early Childhood Education
Just a couple of decades ago, children entering school were not expected to know their ABCs or be able to count to 10. These skills were taught in the half-day of class that kindergarten offered. Basic math and reading skills came in first grade, while advanced subjects such as science and social studies were saved for the later elementary school years. Now, most schools expect children to have at least some basic knowledge before the first day of kindergarten. First-graders are already learning basic algebra skills in some schools. Part of the reason for the shift might be because, according to Child Trends Databank, 55 percent of children ages 3 to 6 attend some form of preschool. Schools are moving toward teaching more skills at an earlier age, when young minds are better able to absorb new information.
Health Care
The majority of states offer some form of state-funded insurance for children whose parents can't obtain it at a reasonable cost through their jobs or other methods. According to the Centers for Disease Control and Prevention, 82 percent of children ages 5 to 11 are in good to excellent health. Vaccines are a controversial subject in some quarters in the United States, yet 82 percent of children still receive them on an appropriate time schedule. More than three-quarters of parents ensure that their children receive regular checkups from birth through high school.
Family Dynamics
While the defining characteristics of a family have changed over generations with more blended families, single-parent households and grandparent involvement, Americans still tend to be a family focused society. While many parents feel as though they're not spending enough time with their children, a 2010 study by the University of California, San Diego found that parents spend more time with their children than past generations. Moms are still the primary caregivers for their children, but dads are often just as involved in family time and major decision-making.
Child Safety
With nearly 532,000 children reported missing in 2010, according to the National Crime Information Center, parents are more concerned than ever about keeping their children off the missing persons list. While a large number of those cases involve runaways and parental kidnappings, nearly 40,000 cases a year remain unsolved. U.S. parents are also concerned about the effects of violence on television and in video games. Keeping children safe from both outsiders and themselves remains a child-rearing trend that binds the cultures together.